<![if !IE]> <![endif]>

elobau GmbH & Co. KG
Zeppelinstr. 44
88299 Leutkirch
Germany
+49 7561 9700

+49 7561 970100

List of Products
This exhibitor shows the following products and commodity groups:

Trend subjects
Alcoholic beverages
All sectors
Aromas, essences
Baby food, health food, food for the elderly
Baked goods
Cereals
Cocoa
Coffee, tea
Convenience products
Dairy products (milk, cheese, etc.)
Delicatessen products
Frozen foods
Fruit juice, fruit drinks
Fruit, vegetables
Halal products
Ice-cream
Kosher products
Meat, poultry, fish, sausage
Non-alcoholic beverages
Oil, fats, margarine
Organic
Pasta
Pet food
Potatoes
Powdered soups, pudding powder, other instant products
Preserves, pickled products
Ready-meals
Spices
Starch, ground cereal products
Sugar
Tobacco poducts

Target and sales markets
Africa
Asia
Australia
Brazil
Canada
China
Colombia
East Africa
Europe
India
Japan
Mexico
Middle East
New Zealand
North Africa
Northern Europe
Oceania
Others Central America
Others Eastern Europe
Others Oceania
Others South America
Russia
South Africa
South East Asia
Southern Europe
The Americas
Turkey
USA
West Africa
Western Europe

Mailings
Automation, data processing, controlling and regulation technology

Company & products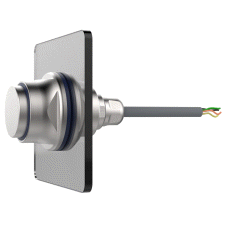 Sicherheitssensor in Hygienic Design
Lebensmittelsicherheit ist so wichtig wie nie zuvor – und damit auch Hygiene in den dafür notwendigen Verarbeitungsmaschinen. Diesem Trend begegnet die Firma elobau mit dem neuen Sicherheitssensor in hygienegerechtem Design.

Dieser ist speziell für Anwendungen in Hygienebereichen von lebensmittelverarbeitenden Maschinen sowie in der Verpackungs- und Pharmaindustrie konzipiert. Die Konstruktion von Sensor und Klemmverschraubung lässt keine Schmutzanhaftungen zu und bietet beste Reinigungsmöglichkeiten.

Die Edelstahlkomponenten sind hinsichtlich von Material (1.4404) und Rauhtiefe für den Kontakt mit Lebensmitteln geeignet. Selbiges gilt für die Dichtungen aus EPDM (blau), welche der Verordnung (EU) Nr. 10/2011 entsprechen.

Sensorgehäuse und Klemmverschraubung sind von den Abmessungen so konzipiert, dass sie in das Lochbild eines Sensors mit M30-Gewinde passen. Die Verschraubung ist variabel und für Materialstärken des Blechs von 0,5 – 8 mm geeignet. Beides gewährleistet eine einfache Rückwärtskompatibilität ohne Änderung der Mechanik. Der hygienegerechte Aufbau macht eine Umhausung bzw. den verdeckten Einbau der Sicherheitssensoren überflüssig. Dies spart Platz in der Maschine ein und verringert die Montagezeit.

Eine EHEDG-Zulassung befindet sich in Bearbeitung. Um das Programm zu ergänzen, sind außerdem weitere Varianten in anderen Bauformen angedacht.