<![if !IE]> <![endif]>

Gronemeyer Maschinenfabrik GmbH & Co.
Rohrweg 31
37671 Höxter
Germany
List of product entries
This exhibitor shows the following products and commodity groups:

Product emphasis
Process technology

Trend subjects
Alcoholic beverages
All sectors
Aromas, essences
Baby food, health food, food for the elderly
Baked goods
Cereals
Cocoa
Coffee, tea
Convenience products
Dairy products (milk, cheese, etc.)
Delicatessen products
Frozen foods
Fruit juice, fruit drinks
Fruit, vegetables
Halal products
Ice-cream
Kosher products
Meat, poultry, fish, sausage
Non-alcoholic beverages
Oil, fats, margarine
Organic products
Pasta
Pet food
Potatoes
Powdered soups, pudding powder, other instant products
Preserves, pickled products
Ready-meals
Spices
Starch, ground cereal products
Sugar
Tobacco poducts
Vegan / vegetarian products / alternative proteins

Target and sales markets
Australia
Brazil
Canada
China
Japan
Mexico
Middle East
New Zealand
North Africa
Northern Europe
Others Eastern Europe
Others South America
Russia
South Africa
Southern Europe
Turkey
USA
Western Europe

Company & products
Products
Wendel-Durchlaufsysteme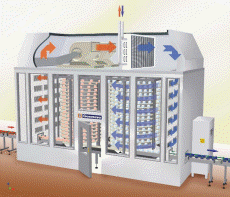 Das Gronemeyer Wendel-Durchlaufsystem kühlt, gärt oder frostet Stück- und Schüttgüter. Die Produkte werden auf einer Kunstsoff-Mattenbandkette transportiert. Die Kette windet sich spiralförmig um einen oder zwei rotierende Türme. Die Konstruktion der Maschine erlaubt die Behandlung von unverpackten Lebensmitteln. Die Auslauftemperatur der Produkte kann mit der Durchlaufzeit und der Temperatur in der Raumzelle verändert werden. Neben der Temperaturbehandlung können gleichzeitig Höhenunterschiede bis zu 5 m überwunden werden.
Technische Daten:

•Kettenbreite: bis zu 1400 mm
•Nutzbare Kettenlänge: bis 1000 m
•Temperaturbereich: +1°C bis +85°C
•Isolierhaube mit Zugangstüren und Sichtfenstern nach Kundenwunsch
•Kälteanlage mit Direktverdampfung oder Durchflusskühler mit Kälteträger (z. B. Sole)
•Wärmetauscher mit Heißwasser- oder Dampfanschluss für thermische Behandlung