<![if !IE]> <![endif]>

VEGA Grieshaber KG
Am Hohenstein 113
77761 Schiltach
Germany
List of product entries
This exhibitor shows the following products and commodity groups:

Product emphasis
Automation, software, control equipment

Trend subjects
Alcoholic beverages
All sectors
Aromas, essences
Baby food, health food, food for the elderly
Baked goods
Cereals
Cocoa
Coffee, tea
Dairy products (milk, cheese, etc.)
Delicatessen products
Fruit juice, fruit drinks
Ice-cream
Meat, poultry, fish, sausage
Non-alcoholic beverages
Oil, fats, margarine
Pasta
Pet food
Powdered soups, pudding powder, other instant products
Ready-meals
Spices
Starch, ground cereal products
Sugar
Tobacco poducts

Target and sales markets
Australia
Brazil
Canada
China
Colombia
East Africa
India
Japan
Mexico
Middle East
New Zealand
North Africa
Northern Europe
Others Central America
Others Eastern Europe
Others Oceania
Others South America
Russia
South Africa
South East Asia
Southern Europe
Turkey
USA
West Africa
Western Europe

Company & products
Products
Simple. Simpler. THE 6X®.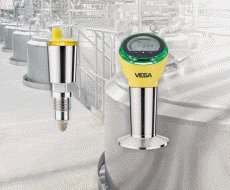 New process reliability: only one VEGA radar sensor for all level applications

Producing food in the right quality and quantity requires highly automated processes. Success is determined by the consistency with which production can be carried out - whether in mixing, filling, evaporation or CIP and SIP cleaning. This makes it all the more important for plant operators to be able to rely completely on the measurement technology. On the one hand, on the proven quality of the sensors, and on the other hand, on using them correctly and having found the optimal solution for the application.

PRO series

With VEGAPULS 6X, the way you select, integrate and use an instrument has never been easier. With its new VEGAPULS 6X, VEGA has turned instrument selection, which was previously a time-consuming process and often associated with queries, upside down. From now on, with VEGAPULS 6X, there is only one sensor for all applications. No matter whether your media are liquid or solid, hot, cold or aggressive, you no longer have to choose the right instrument from a multitude of different types. Even hurdles such as the right frequency or the DK value of the medium no longer stand in the way of selection. The new configurator of VEGAPULS 6X asks for the type of application and determines the required sensor version in the shortest possible way.

COMPACT series

For standard food processes, VEGA also offers its Compact series of pressure sensors and level switches. The VEGABAR and VEGAPOINT product families prove that automation can be particularly economical and at the same time highly efficient without compromising safety, hygiene or accuracy. Their uniform hygiene adapter system brings the flexibility that is needed to keep expenditure and storage at a sensible level. Process connections can be selected as needed and adapted to on-site requirements.