<![if !IE]> <![endif]>

SMI S.P.A
Via Carlo Ceresa 10
24015 SAN GIOVANNI BIANCO (BG)
Italy
+39 034540111

+39 034540209

List of Products
This exhibitor shows the following products and commodity groups:

Trend subjects
Alcoholic beverages
Baby food, health food, food for the elderly
Dairy products (milk, cheese, etc.)
Fruit juice, fruit drinks
Non-alcoholic beverages

Target and sales markets
Africa
Asia
Australia
Brazil
Canada
China
Colombia
East Africa
Europe
Mexico
Middle East
North Africa
Northern Europe
Oceania
South East Asia
The Americas
Turkey
USA

Mailings
Filling and Packaging technology

Company & products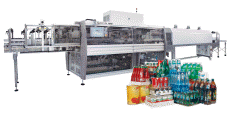 CSK ERGON series
The CSK ERGON series is composed of automatic shrink-wrapping machines for the packaging of plastic, metal, cardboard and glass containers in film only, cardboard pad + film, tray only and cardboard tray + film configurations.
These machines can achieve an output rate of up 50 packs per minute in single lane (up to 50+50 in double lane) and are capable of handling multiple pack collations according to the container's shape and size; the most requested configurations are generally 2x2, 3x2, 4x3 and 6x4.
All CSK ERGON models are equipped with an electronic product-grouping device and film-cutting blade and flap-folding device operated by direct drive brushless motors.
There are several features inspired by the latest developments in the domains of Industry 4.0 and IoT technologies, which make the CSK machines an ideal solution for secondary packaging operations:
- the whole range of these packers manufactured by SMI is designed according to advanced principles of module assembly and features interchangeable mechanical and electronic components, which ensure a reduction in the down-times and the optimization of spare part stocks;
- they stand out for their unparallelled operational flexibility, which enables the end user to package a wide range of products in several pack collations by means of a single machine only;
- every motors is directly connected to the drive shafts, thus entailing shorter and simpler maintenance operations and lower running costs and noise levels; the latter benefit is also ensured by the use of dividing pins made of thermoplastic material;
- the continuous motion packaging system ensures a fluid production process and protects the containers from strokes and bumps, thus securing more reliability, final packages of higher quality and reduced mechanical wear;
- a precise and automatic film cutting system and a user-friendly man-machine interface complement the machine's set of "smart devices".