<![if !IE]> <![endif]>

Agriflex SRL
Via Eugenio Barsanti 6/8
47122 FORLI' (FC)
Italy
+39 0543 796153

+39 0543 725152

List of Products
This exhibitor shows the following products and commodity groups:

Trend subjects
Alcoholic beverages
Baby food, health food, food for the elderly
Baked goods
Cocoa
Coffee, tea
Frozen foods
Halal products
Kosher products
Oil, fats, margarine
Organic
Pet food
Powdered soups, pudding powder, other instant products
Ready-meals
Sugar

Target and sales markets
Africa
Australia
Brazil
Canada
Colombia
East Africa
Europe
India
Mexico
Middle East
New Zealand
North Africa
Northern Europe
Oceania
Others Eastern Europe
Others South America
Russia
South Africa
Southern Europe
The Americas
Turkey
USA
West Africa
Western Europe

Company & products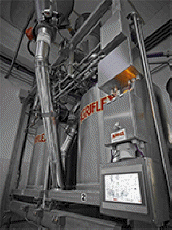 Systems and installations for the production of natural liquid yeast
Natural yeast (or sour-dough starter) is a mix of flour and water left to rise spontaneously in open air for a certain period of time, during which the micro-organisms in the flour, water and air reproduce and ferment, re leasing compounds with excellent nutritional and aromatic qualities.

The traditional preparation of natural yeast (yeast-based starter) is quite a complex and delicate process influenced by environmental variability and the cleanliness of both the working environment and the equipment used. The experience, ability and skill of the baker are often not enough to guarantee the stability and effectiveness of the natural yeast in this fragile biological balance.

For years Agriflex have been designing and installing industrial systems for the production of natural liquid yeast. These systems guarantee a product that respects the expected qualitative standards. The quality and consistency of the characteristics are guaranteed, because the chemical-physical parameters of the process (temperature, time and acidity) are controlled.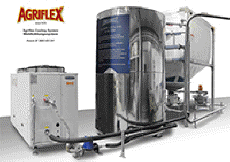 Flour cooling system / PATENT NR. 1401347
INNOVATIVE SOLUTION For the food Industry in particular applied to the baked products

Dough temperature control is a key factor in obtaining constant and ideal quality in the production of bakery. In fact, the cooling process of the flours allows slowing down the rising of the dough and adequately adjusting it to the times of each production line.

One of the most commonly popular method is the lowering the dough temperature by adding ice; some cool the dough by mixing liquid nitrogen; others mix the flours using lamellar flows of cold air; some others use the screw heat-exchangers method. These methods represent empirical approach, expensive and impractical methods, poorly efficient solutions, increasing both plant running and operating costs due to the difficult cleaning and maintenance process.

The Flour cooling system / PATENT NR. 1401347 / The Agriflex solution offers several, significant advantages:

1 high energy efficiency thanks to the direct exchange and consequently reduced operating costs;

2 high effectiveness thanks to the considerable temperature reduction;

3 complete system automation that, thanks to the reduced thermal inertia and the absence of accumulations, ensures the correct temperature of the dough, compensating the temperature variations of the other components and ambient temperature;

4 ease of maintenance since all areas can be easily cleaned.