<![if !IE]> <![endif]>

BEHA Innovation GmbH
In den Engematten 16
79286 Glottertal
Germany
List of Products
This exhibitor shows the following products and commodity groups:

Trend subjects
Alcoholic beverages
All sectors
Baby food, health food, food for the elderly
Baked goods
Cereals
Coffee, tea
Convenience products
Dairy products (milk, cheese, etc.)
Delicatessen products
Frozen foods
Fruit juice, fruit drinks
Fruit, vegetables
Halal products
Ice-cream
Kosher products
Meat, poultry, fish, sausage
Non-alcoholic beverages
Organic
Pasta
Pet food
Potatoes
Powdered soups, pudding powder, other instant products
Preserves, pickled products
Ready-meals
Spices
Starch, ground cereal products
Sugar
Tobacco poducts

Target and sales markets
Africa
Asia
Australia
Brazil
Canada
China
Colombia
East Africa
Europe
India
Japan
Mexico
Middle East
New Zealand
North Africa
Northern Europe
Oceania
Others Central America
Others Eastern Europe
Others Oceania
Others South America
Russia
South Africa
South East Asia
Southern Europe
The Americas
Turkey
USA
West Africa
Western Europe

Mailings
Conveying, transport and storage facilities, logistics

Company & products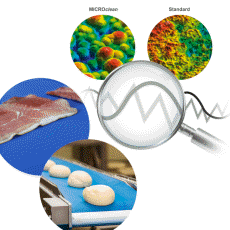 MICROclean - Neue Oberflächenveredelung für Transportbänder
MICROclean - neue Oberflächenveredelung für Transportbänder in der Lebensmittelindustrie
Für die besonderen Anforderungen der Lebensmittelindustrie hat BEHAbelt eine neue Bandoberfläche entwickelt, die in Sachen Hygiene und schonendem Produkttransport einen neuen Standard setzt.
Die Nanostruktur der MICROclean-Oberfläche erlaubt aufgrund der besonderen Oberflächenstruktur, welche nur mit einer Lupe zu erkennen ist, eine bessere und schnellere Reinigung der Bandoberfläche und außerdem zusätzlich eine besseres Ablösen der Transportprodukte; speziell bei der Übergabe des Produkts auf den nächsten Transportabschnitt. Heute werden für solche Anforderungen typischerweise anstatt der eher ungeeigneten glatten Bandstrukturen, aufgrund Produktansaugeffekten, strukturierte Bandoberflächen mit feinrauer Oberfläche oder negativer Pyramidenstruktur ausgestattet.
Die MICROclean Oberfläche als glatte Bandausführung kompensiert die Nachteile bzgl. der Reinigbarkeit solcher Bandstrukturen, was im Besonderen auch bei der Verwendung von Bandabstreifern verständlich wird.
Unter dem Mikroskop betrachtet sind auch glatte Bandoberflächen nicht vollständig glatt, d.h. auch hier lässt sich eine Berg- und Tal-Struktur erkennen. Das Besondere der MICROclean Oberfläche ist die Ausformung dieser Bandstruktur mit gerundeten Strukturkanten. Diese Rundungen erlauben ein einfacheres und schnelleres Lösen von Verunreinigung (Reinigbarkeit und reduzierte Reinigungszeit) und verhindern außerdem das "Verzahnen" der aufgelegten Produkte mit der Bandstruktur, was bei "spitzen kantigen" Bandoberflächen oft der Fall ist.
Aufgrund der quasi nicht vorhandenen Strukturtiefe können solche Bänder auch mit 1mm Bandstärke für besonderes kleine Trommeldurchmesser und Produktübergabestellen verwendet werden. Folgende Bandoberflächen bei BEHAbelt sind mit MICROclean standardmäßig veredelt: glatt matt (SM) und auch als "Struktur in der Struktur" bei Noppen (NP) und Diamant (ID).