<![if !IE]> <![endif]>

Berief Nahrungsmittel- maschinen GmbH & Co. KG
Lange Str. 63 -67
59329 Wadersloh
Germany
List of Products
This exhibitor shows the following products and commodity groups:

Trend subjects
Baby food, health food, food for the elderly
Baked goods
Cereals
Convenience products
Delicatessen products
Frozen foods
Fruit, vegetables
Halal products
Kosher products
Meat, poultry, fish, sausage
Organic
Pasta
Pet food
Potatoes
Preserves, pickled products
Ready-meals

Target and sales markets
Africa
Asia
Australia
Canada
East Africa
Europe
India
New Zealand
North Africa
Northern Europe
Oceania
Others Eastern Europe
Russia
South Africa
South East Asia
Southern Europe
The Americas
Turkey
USA
Western Europe

Mailings
Process technology

Company & products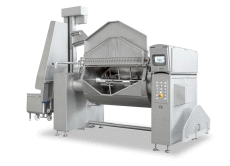 Tiltable Cooking and Roasting Kettle KIPPKO
For more than 70 years of continuous product development the Berief tiltable cooking kettle type KIPPKO has become one of the most modern cooking and stewing kettles of its type.
Perfectly suited for the production of:
Ready meals Onions, mushrooms
Stews, Soups Red cabbage, sauerkraut
Goulasch, choped meat Mashed potatoes
Rice and Pasta Pasta fillings
Sauces with / without particles Dripping with greaves
Vegetable, legumes Desserts


Important Features of the Tiltable Cooking Kettle:
* Horizontal agitator (gentle and intensive)
* Heating
o High-pressure steam up to 10 bar; steam restrained through joined channels
o Thermal fluid
* Two heating zones, heating of the bottom area only f.e. during pre-frying
* Heating pressure adjustable, f.e. for intensive pre-roasting or for simmering
* Cooling with cooling water via double jacket
* Recipe control
* Total kettle volume 400, 800,1200 Liter (non tiltable models up to 3.000 liter)

The Berief KIPPKO combines user friendliness and consistent product quality with highest quality, safety and hygiene standards. They are achieved by way of:
* Flat and smooth surfaces
* Insulation, power supply and water supply with welded trim panels
* Modern PLC and safety circuits
* Use of high-quality stainless steel and other materials allowed for the contact with food products

With the innovative and standardized design as well as the modular system of the optional accessory parts we can offer a short delivery time, a stock of replacement parts and a large variety of machine variants.