<![if !IE]> <![endif]>

BIRGROUP Holding GmbH & Co. KG
Peterhof 1
23560 Lübeck
Germany
+49 45161169980

+49 45161169999

List of Products
This exhibitor shows the following products and commodity groups:

Trend subjects
Alcoholic beverages
All sectors
Aromas, essences
Baby food, health food, food for the elderly
Baked goods
Cereals
Cocoa
Coffee, tea
Convenience products
Dairy products (milk, cheese, etc.)
Delicatessen products
Frozen foods
Fruit juice, fruit drinks
Fruit, vegetables
Halal products
Ice-cream
Kosher products
Meat, poultry, fish, sausage
Non-alcoholic beverages
Oil, fats, margarine
Organic
Pasta
Pet food
Potatoes
Powdered soups, pudding powder, other instant products
Preserves, pickled products
Ready-meals
Spices
Starch, ground cereal products
Sugar
Tobacco poducts

Target and sales markets
Europe
Northern Europe
Southern Europe
Turkey
Western Europe

Mailings
Food safety, quality management

Company & products
Maßgeschneiderte Leistungen aus einer Hand
Die BIRGROUP ist einer der führenden Anbieter in Deutschland für effektive Industriereinigung - insbesondere im Food-/Nonfood-Bereich, professionelles Gebäudemanagement, effizienten Personalservice sowie zuverlässige Unternehmenssicherheit. Seit 4 Jahrzehnten mit über 5.000 Mitarbeitern sind wir jederzeit und an jedem Ort rund um die Uhr im Einsatz!
Jedes Problem ist für uns lösbar! Ganz gleich ob in der fleisch-und lebensmittelverarbeitenden Industrie, Handel und Gewerbe oder Verwaltungen und Dienstleistungsunternehmen. Wir sind da, wann, wo und wie Sie uns brauchen.
Guter Ruf verpflichtet und Qualität ist ausgezeichnet! Unser zertifiziertes Qualitätsmanagement nach DIN EN ISO 9001:2008; ISO 14001:2004, ISO 22000 :2005, DIN 77200, sowie unser Internes Audit geben Ihnen die beruhigende Gewissheit, dass alle Arbeitsabläufe eine lückenlose Qualitätskontrolle durchlaufen und jederzeit überprüfbar sind. In Ihrem Interesse.
Mehr Informationen: www.birgroup.de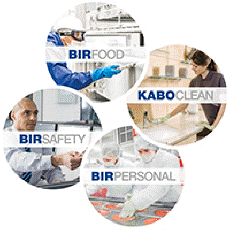 Product
No description available.