<![if !IE]> <![endif]>
Bundesanstalt für Landwirtschaft und Ernährung
Deichmanns Aue 29
53179 Bonn
Germany
+49 228 68450

+49 228 68453444

List of product entries
This exhibitor shows the following products and commodity groups:

Product emphasis
Service firms, organizations, publishers

Company & products
Company & products
Company & products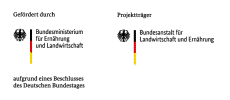 Unternehmensportrait
Die Innovationsförderung des
Bundesministeriums für Ernährung und Landwirtschaft (BMEL)
unterstützt Innovationen in der deutschen Agrar- und Ernährungswirtschaft. Mit der Projektträgerschaft ist die
Bundesanstalt für Landwirtschaft und Ernährung (BLE)
beauftragt. Der Projektträger BLE identifiziert neue Forschungsfelder, entwickelt entsprechende Förderrichtlinien und begleitet Projekte von der Idee über die Ausführung bis zur Umsetzung.
Mit dem Programm zur Innovationsförderung des BMEL werden Innovationen in Deutschland in den Bereichen Landwirtschaft, Ernährung und gesundheitlicher Verbraucherschutz gefördert. Durch die Förderung sollen schnell und gezielt Impulse gesetzt werden, die kurz-, mittel- und langfristig u.a. auf eine nachhaltige Agrar- und Ernährungswirtschaft, die Förderung einer gesunderhaltenden Ernährung sowie die Stärkung der Innovationskraft ausgerichtet sind.
Im Fokus stehen anwendungsorientierte Forschungs- und Entwicklungsvorhaben, die in Kooperation zwischen Wirtschaft und Wissenschaft marktfähige Produkte, Verfahren oder Dienstleistungen realisieren. Ziel dabei ist es, die Wettbewerbsfähigkeit des Wirtschaftsstandortes Deutschlands zu stärken, Arbeitsplätze zu schaffen und zu erhalten und den Fortschritt im Einklang mit Nachhaltigkeitsaspekten voranzutreiben.
Innovationen sind auch für den Lebensmittel- und Ernährungssektor unverzichtbar. Förderschwerpunkte bilden Innovationen, die einen Beitrag zu einer gesunderhaltenden und nachhaltigen Ernährung leisten. Die Digitalisierung stellt hierbei auf allen Stufen der Wertschöpfungskette ein zukunftsweisendes Innovationsfeld dar.
Weiter unten sind eine Zusammenstellung der sich im Rahmen des Messeprogramms präsentierenden Projekte sowie ausgewählter Förderprojekte zu finden. In der Projektträgerdatenbank können Informationen zu allen Projekten, für die die BLE mit der Projektträgerschaft betraut ist, eingesehen werden.
Sprechen Sie uns gerne für weitere Informationen oder einen Austausch an.