<![if !IE]> <![endif]>

BluePrint Automation B.V.
Carrosserieweg 3
3445 BC WOERDEN
Netherlands
List of Products
This exhibitor shows the following products and commodity groups:

Trend subjects
Aromas, essences
Baby food, health food, food for the elderly
Baked goods
Cereals
Cocoa
Coffee, tea
Convenience products
Dairy products (milk, cheese, etc.)
Delicatessen products
Frozen foods
Fruit juice, fruit drinks
Fruit, vegetables
Halal products
Ice-cream
Kosher products
Meat, poultry, fish, sausage
Non-alcoholic beverages
Oil, fats, margarine
Organic
Pasta
Pet food
Potatoes
Powdered soups, pudding powder, other instant products
Ready-meals
Spices
Starch, ground cereal products
Sugar
Tobacco poducts

Target and sales markets
Africa
Asia
Europe
Oceania
The Americas

Mailings
Filling and Packaging technology

Company & products
ABOUT BLUEPRINT AUTOMATION (BPA)
To attain growth and fulfil promises to your customers, your organization depends on a flawlessly functioning secondary packaging process. Many companies around the globe rely on the turnkey packaging automation systems designed and manufactured by BluePrint Automation (BPA).
Our turnkey solutions combine highly reliable and innovative case designs with the most versatile product handling and case packing. Our systems are built to operate 24/7 and have a solid reputation for their quick changeover, flexibility, speed and intuitive design.
Your company, objectives and processes are unique. Listening to and processing your needs are therefore the most important aspects of our initial work. Our Sales and Engineering Departments cooperate seamlessly, to devise the solution that completely answers to your packaging needs. We aim to please and are thrilled by your increase in operational efficiency.
Flexibility
Our world is rapidly evolving, and our customers expect nothing but the latest and the best. Rigid and prefixed solutions do not help to truly make a difference. At BPA, we embrace flexibility, in our solutions and our attitudes. This enables us to create a true and lasting value for our customers.
Innovation
We are absolutely passionate about innovation. It adds the fun and inspiration to our work. Our customers stimulate our innovation by developing new needs, and we ourselves are on a never-ending quest to find a better, simpler way.
Partnership
Once a customer entrusts us with their needs, we never want to let them go. We value long term relations, as they reap the most benefits for everyone involved. Partners look out for each other and enable mutual success. At BPA, the customer always comes first.
Rethinking your secondary packaging needs? Contact one of our experts at sales@blueprintautomation.nl.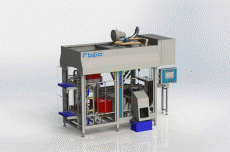 DCP-E modular case packer for automatic forming, loading and closing of cases
The DCP is the ultimate packaging machine for your vertical packaging requirements. Its default configuration, the DCP-E, fully automates bag handling and the vertical loading process of cases and/or trays. It includes BPA's robotic platform provided with dedicated handling parts to match your specific application, including our patented SmartTrak system for high speed bag pre-collation and end-effector.
The smart construction of this system significantly simplifies changeovers, making the DCP-E easy to adapt to your future packing needs. Cases or trays are introduced to the DCP-E manually, or pre-erect them automatically. This automated solution uses a smart transport system that suits any customer layout.
On top of all these highly innovative features, all configurations of the DCP-E include an ergonomic and open design. This provides for easy access to the machine and creates maximum process overview. The robust construction is made from high quality components, to minimize maintenance needs and maximize the continuity of your packing process.