<![if !IE]> <![endif]>

CAQ AG Factory Systems
Kastanienweg 1
55494 Rheinböllen
Germany
+49 6764902000

+49 676490200119

List of Products
This exhibitor shows the following products and commodity groups:

Trend subjects
Alcoholic beverages
All sectors
Aromas, essences
Baby food, health food, food for the elderly
Baked goods
Cereals
Cocoa
Coffee, tea
Convenience products
Dairy products (milk, cheese, etc.)
Delicatessen products
Frozen foods
Fruit juice, fruit drinks
Fruit, vegetables
Halal products
Ice-cream
Kosher products
Meat, poultry, fish, sausage
Non-alcoholic beverages
Oil, fats, margarine
Organic
Pasta
Pet food
Potatoes
Powdered soups, pudding powder, other instant products
Preserves, pickled products
Ready-meals
Spices
Starch, ground cereal products
Sugar
Tobacco poducts

Target and sales markets
Africa
Asia
Australia
Brazil
Canada
China
Colombia
East Africa
Europe
India
Japan
Mexico
Middle East
New Zealand
North Africa
Northern Europe
Oceania
Others Central America
Others Eastern Europe
Others Oceania
Others South America
Russia
South Africa
South East Asia
Southern Europe
The Americas
Turkey
USA
West Africa
Western Europe

Mailings
Food safety, quality management

Company & products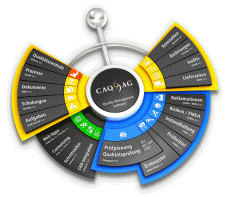 CAQ.Net - Software für das Qualitätsmanagement
Für Unternehmen im Lebensmittelbereich gilt es heute mehr denn je die Vorteile der Digitalisierung zu nutzen und innerhalb ihrer täglichen Prozesse einzubringen. Neben erhöhter Konsumentensicherheit, Wettbewerbsfähigkeit und Zukunftssicherheit sind die Notwendigkeiten für die Digitalisierung primär in den Vorgaben verschiedenster Normen, Gesetze und Regelwerke wie ISO 9001, IFS, BRC, FDA oder GMP zu finden. Unsere Software ist präzise dafür entwickelt worden, Unternehmen bei der strukturierten Umsetzung ebendieser Vorgaben und der digitalen Implementierung des Themas Qualitätssicherung zu unterstützen.

Über das gesamte Agribusiness hinweg und über die Ernährungsindustrie, das Ernährungshandwerk, den Lebensmittelgroßhandel und Lebensmitteleinzelhandel bis zur Gastronomie bietet unsere modulare Lösung alles, was für eine flächendeckende Qualitätssicherung und ein durchgreifendes Qualitätsmanagement in der Lebensmittelindustrie benötigt wird. Ob Risikoanalysen, LIMS, Traceability-Maßnahmen, Änderungskontrolle, Schulungsmanagement oder Zertifikatserstellung: CAQ.Net bietet Ihnen die perfekten Zutaten für die durchgängige Gewährleistung von Qualität in der Lebensmittelbranche.

Als ganzheitliche QM-Lösung bietet unsere Software darüber hinaus auch modulare Lösungen zu:

Prozessmanagement, Auditmanagement, Records Management, Aufgabenmanagement, Prüfmittelmanagement, SPC/WE/WA, Instandhaltungsmanagement, Kennzahlenmanagement u.v.m.