<![if !IE]> <![endif]>

Coperion GmbH
Theodorstr. 10
70469 Stuttgart
Germany
+49 7118970

+49 7118973999

List of Products
This exhibitor shows the following products and commodity groups:

Trend subjects
Aromas, essences
Baby food, health food, food for the elderly
Cereals
Cocoa
Coffee, tea
Dairy products (milk, cheese, etc.)
Meat, poultry, fish, sausage
Pet food
Powdered soups, pudding powder, other instant products
Spices
Starch, ground cereal products
Sugar
Tobacco poducts

Target and sales markets
Africa
Asia
Australia
Brazil
Canada
China
Colombia
East Africa
Europe
India
Japan
Mexico
Middle East
New Zealand
North Africa
Northern Europe
Oceania
Others Central America
Others Eastern Europe
Others Oceania
Others South America
Russia
South Africa
South East Asia
Southern Europe
The Americas
Turkey
USA
West Africa
Western Europe

Mailings
Process technology

Company & products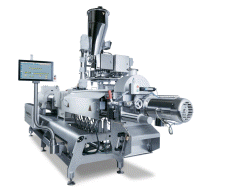 Doppelschneckenextruder ZSK Mv PLUS in neuem Hygienic Design
Um den immer umfassender werdenden Hygiene- und Sicherheitsanforderungen der Lebensmittelhersteller Folge zu leisten, hat die Coperion GmbH, Stuttgart, Deutschland, ihren Doppelschneckenextruder ZSK Mv PLUS gesamthaft überarbeitet und ihm ein innovatives Maschinendesign verpasst.

Das offene Untergestell des Doppelschneckenextruders ist aus Edelstahl gefertigt, besitzt ausschließlich glatte Oberflächen und öffnet Anwendern zahlreiche Vorteile: Der Reinigungsaufwand für die Anlage reduziert sich dank ihrer sehr guten Zugänglichkeit deutlich. Produkt- und Produktionssicherheit steigen. Die für die Reinigung benötigte Standzeit der Maschine sinkt auf ein Minimum.

Die zentrische Granulierung ZGF ist ebenfalls aus Edelstahl gefertigt. Dies umfasst sowohl die Granuliereinheit als auch den Antrieb. Damit entfallen im Vergleich zu herkömmlichen, luftgekühlten Motoren die Kühlrippen und der Reinigungsaufwand reduziert sich deutlich.

Betreiber der Anlage profitieren auch von dem neuen CSpro-Steuerungssystem des ZSK Mv PLUS. Es basiert auf den aktuellen Siemens SPS S7-1500-Komponenten und ermöglicht dank der integrierten OPC UA-Schnittstelle und seines Web-Interfaces den direkten Zugang zu allen relevanten Daten der Anlage, somit entspricht es damit auch den Anforderungen des Industrie 4.0-Standards.

Der Doppelschneckenextruder ZSK von Coperion ist das Ergebnis aus über 100 Jahren Erfahrung mit Extrusionsprozessen und aus über 50 Jahren Know-how im Umgang mit Lebensmittelanwendungen. Er besticht durch seine hohe Betriebszuverlässigkeit und der Langlebigkeit seiner Bauteile. Von Cerealienherstellern bis zu Produzenten von texturierten Fleischanalogen haben verschiedenste Food-Unternehmen weltweit den ZSK Mv PLUS erfolgreich im Einsatz.

Die Leistungsdaten des Doppelschneckenextruders ZSK Mv PLUS basieren auf einem Da/Di von 1,8 (äußerer zu innerem Schneckendurchmesser). Das spezifische Drehmoment beträgt 11,3 Nm/cm3 und die maximale Schneckendrehzahl liegt bei 1.800 min-1.