<![if !IE]> <![endif]>

Heuft Systemtechnik GmbH
Am Wind 1
56659 Burgbrohl
Germany
List of Products
This exhibitor shows the following products and commodity groups:

Mailings
Food safety, quality management

Company & products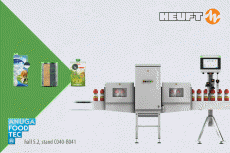 No foreign objects remain undetected
Anyone wishing to find more than just metal when detecting foreign objects in filled food containers needs a radiometric inspection. The pulsed X-ray technology exclusively available from HEUFT is the first choice for maximum precision with the lowest level of radiation. A new development which will be showcased at Anuga FoodTec for the first time now makes it possible to use this where space is limited.
The slim device can be directly integrated into the conveyor in an exceptionally space-saving and flexible manner in order to examine food cans, composite packages, squeeze bottles or stand-up pouches continuously: unique X-ray strobes, exactly positioned in an extremely compact casing, illuminate their complete volume for this purpose so that no high density foreign objects are overlooked - regardless of their material.
The new development based on the highly automated HEUFT SPECTRUM II device platform can check fill levels, closures and product markings at the same time. Above all it now also offers food producers with little space an affordable foreign object detection on a HEUFT level.
The HEUFT eXaminer II XAC solves even more demanding tasks such as a glass in glass detection. The sidewall inspection of freshly filled food jars using pulsed X-ray technology is carried out by the system of the new generation twice from different perspectives. Additional X-ray strobes take over the continuous inspection of the base. Thus minute glass splinters are really found everywhere even if they are covered up by the base dome or other material structures in conjunction with dynamic filter technologies during real-time image processing.
Like all the other HEUFT systems for detecting foreign objects the two solutions do not emit radiation constantly. They only release an X-ray flash, lasting a thousandth of a second, when there is really something to inspect. Therefore high resolution images without motion blurs are produced with minimum radiation exposure.
Anuga FoodTec 2018 / 20 to 23 March 2018 / Cologne Exhibition Centre / Stand C040-B041 / Hall 5.2.