<![if !IE]> <![endif]>
List of Products
This exhibitor shows the following products and commodity groups:

Trend subjects
Delicatessen products
Fruit, vegetables
Potatoes
Powdered soups, pudding powder, other instant products
Preserves, pickled products
Ready-meals
Spices

Mailings
Process technology

Company & products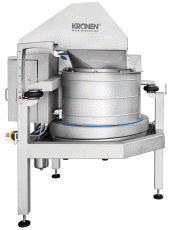 Drying system K650: for lettuce, vegetables, fruits and more
With the drying system K650 KRONEN GmbH expands its portfolio and presents an ideal system for the industrial application for drying a wide variety of lettuce and vegetable products as well as sliced fruit in a continuous treatment process (capacity depending on the product: 400-2800 kg/h).
Depending on consistency, shape and size of the product and the desired degree of drying, spinning times and speeds can be adjusted via a touch screen. This enables an effective, gentle and short drying cycle. Some parameters are automated, e.g. the speed of the buffer and outfeed conveyors. Thus, the program is clearly organised and easy to operate.
With an optional volume control the product feed quantity can be optimised. Without product the machine switches to energy saving mode automatically. At the end of the drying cycle the product is gently routed out onto the outfeed conveyor, which guarantees a product flow that is as uniform as possible for the downstream processes.
Thanks to its 40 years of experience KRONEN can individually and ideally adapt all products – such as the K650 – to the demands of the customers.