<![if !IE]> <![endif]>
Making.com B.V.
Boompjes 40
3011 XB ROTTERDAM
Netherlands
List of product entries
This exhibitor shows the following products and commodity groups:

Product emphasis
Process technology
Service firms, organizations, publishers

Trend subjects
Alcoholic beverages
Aromas, essences
Baby food, health food, food for the elderly
Baked goods
Cereals
Cocoa
Coffee, tea
Convenience products
Dairy products (milk, cheese, etc.)
Delicatessen products
Frozen foods
Fruit juice, fruit drinks
Fruit, vegetables
Halal products
Ice-cream
Non-alcoholic beverages
Oil, fats, margarine
Organic products
Pasta
Pet food
Potatoes
Powdered soups, pudding powder, other instant products
Preserves, pickled products
Ready-meals
Spices
Starch, ground cereal products
Sugar
Tobacco poducts
Vegan / vegetarian products

Target and sales markets
Australia
Brazil
Canada
China
Colombia
East Africa
India
Japan
Mexico
Middle East
New Zealand
North Africa
Northern Europe
Others Central America
Others Eastern Europe
Others Oceania
Others South America
Russia
South Africa
South East Asia
Southern Europe
Turkey
USA
West Africa
Western Europe

Company & products
Products
What are you making?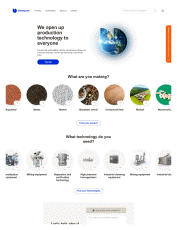 Making.com is a new online platform that helps makers find production technology quicker. You don't have to figure everything out all by yourself. Someone has encountered similar challenges and has built part of your process. A quick talk could be helpful. Yet, how do you get in touch with the right suppliers? And how do you know if they have what it takes?

At Making.com, we locate—and validate—this know-how. So let's navigate the world of production technologies together. We continuously talk to suppliers and identify applications for their technologies. Based on this knowledge, we map suitable technologies around your product. Just browse relevant options and discover the building blocks for a better process.

Our international team helps people from around the world connect quickly to our extensive network. Our ambition is to grow Making.com into a world-leading online platform. The more people connect to our platform, the more it grows, the better it gets. Curious? Join us at Making.com!