<![if !IE]> <![endif]>

Mectra S.p.A.
Via Luigi Galvani 9
42027 MONTECCHIO EMILIA (RE)
Italy
+39 0522868411

+39 0522864536

List of Products
This exhibitor shows the following products and commodity groups:

Trend subjects
Alcoholic beverages
Baby food, health food, food for the elderly
Baked goods
Dairy products (milk, cheese, etc.)
Fruit juice, fruit drinks
Fruit, vegetables
Non-alcoholic beverages
Oil, fats, margarine
Pasta
Pet food
Powdered soups, pudding powder, other instant products
Ready-meals
Starch, ground cereal products

Target and sales markets
Africa
Asia
Australia
Brazil
Canada
China
Colombia
East Africa
Europe
India
Japan
Mexico
Middle East
New Zealand
North Africa
Northern Europe
Oceania
Others Central America
Others Eastern Europe
Others Oceania
Others South America
Russia
South Africa
South East Asia
Southern Europe
The Americas
Turkey
USA
West Africa
Western Europe

Mailings
Filling and Packaging technology

Company & products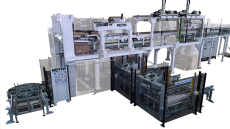 Automatic Palletizer Multi-pallet Model MT571 for carton boxes
The machine is extremely fast and versatile in palletizing schemes formation. It could reach 10 layers per minute and it could palletize more than ten lines at the same time with different type of carton's sizes.

It could automatically deal with palletizing scheme shift and it is perfect for very fast end line. It ensure an high reliability in order to bundle different lines to a single machine.