<![if !IE]> <![endif]>

Minebea Intec GmbH
Meiendorfer Str. 205 A
22145 Hamburg
Germany
List of product entries
This exhibitor shows the following products and commodity groups:

Product emphasis
Process technology

Trend subjects
All sectors

Target and sales markets
Australia
Brazil
Canada
China
Colombia
East Africa
India
Japan
Mexico
Middle East
New Zealand
North Africa
Northern Europe
Others Central America
Others Eastern Europe
Others Oceania
Others South America
Russia
South Africa
South East Asia
Southern Europe
Turkey
USA
West Africa
Western Europe

Company & products
Products
Automatic Weigh Price Labeller WPL-A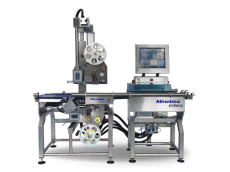 The new automatic weigh price labeller WPL-A contains reliable software in combination with the most advanced weighing and printing technologies, which ensure the labeller fully meets the processing requirements of today and for the future.

Product features

- Intuitive software displaying live production data and dynamic visuals of current printed labels on the embedded 19" Windows touch screen.
- State-of-the-art weighing and pressure compression technology provide high speeds and innovative options on a compact footprint.
- The intuitive label design of the WPL-A follows the latest statutory labelling requirements. Native to all printer configurations, no need for 3rd party software.
- Maximum traceability by pack number, product, lot, user and machine ID. ERP connectivity and E-mark software module available.
X-ray inspection system Dylight
Software ProRecipe XT®
Bench and floor scale Combics®
Checkweigher Flexus® Combi
Metal detector Vistus® Pipeline
Software SPC@Enterprise
Industrial scale Puro®