<![if !IE]> <![endif]>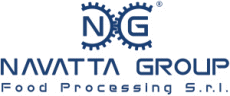 Navatta Group Food Processing S.r.l.
Sandro Pertini 7
43010 Pilastro di Langhirano (PR)
Italy
List of product entries
This exhibitor shows the following products and commodity groups:

Product emphasis
Process technology

Trend subjects
Alcoholic beverages
All sectors
Baby food, health food, food for the elderly
Fruit juice, fruit drinks
Fruit, vegetables
Non-alcoholic beverages

Target and sales markets
Australia
Brazil
Canada
China
Colombia
East Africa
India
Japan
Mexico
Middle East
New Zealand
North Africa
Northern Europe
Others Central America
Others Eastern Europe
Others Oceania
Others South America
Russia
South Africa
South East Asia
Southern Europe
Turkey
USA
West Africa
Western Europe

Company & products
Company
Company profile
Unternehmensportrait
NAVATTA GROUP produces complete Processing Lines, Systems, Equipment for Fruit, Tomato, Vegetables in the food industry. NAVATTA GROUP production range includes:

- Machines for peeled / diced / crushed tomatoes, tomato sauces and purees, tomato paste, all filled into any kind of package or aseptic;
- Machines to produce diced fruit, puree, juices (single strength or concentrated) from Mediterranean / tropical fruit, all filled into any kind of package or aseptic;
- highest yield PATENTED systems for fruit cold extraction, fruit purees / juices equalized in aseptic.
- Wide range of evaporators to produce tomato paste, mediterranean and tropical fruit concentrate.
- Evaporators for milk coffee solutions, infuses, also to get powder
- Evaporators for cogeneration industry (waste treatment)
- Aseptic sterilizers
- Aseptic filling division for spout / spout-less Bag-in-Box 3 – 20 liters, Bag-in-Drum 220 liters, Bin-inBox / IBCs 1.000 – 1.500 liters;
- formulated products preparation (jam, ketchup, sauces, drinks) starting from components unloading to dosing, mixing, mechanical / thermal stabilizing, to filling into any kind of package or into aseptic mini-tanks;
- processing pilot plants;
- vegetable processing as receiving, preparing, cooking, grilling and freezing
Now-a-day NAVATTA GROUP directly operate in the market as machinery builders of fresh fruit and vegetables processing lines with a manufacturing portfolio and a worldwide reference list ranging from single equipment to complete turn-key lines.

NAVATTA GROUP also pursues the traditional activity of high precision mechanical carpentry and tool machines manufacturing which has been implemented together with design of special parts and machinery spare parts.

NAVATTA GROUP has its own headquarters on the outskirts of Parma, Italy, where is located the 10,000
square meters factory.
Products
Under Vacuum Cutter for production of jams, salted and sweet creams, sauces, jellies, yogurts
Cutter for production of jams, salted and sweet creams, sauces, jellies, yogurts