<![if !IE]> <![endif]>

Pakona Engineers (India) Pvt. Ltd.
GIDC, Makarpura Industrial Estate, 6
390010 Baroda
India
+91 9321166068

+91 2222876171

List of Products
This exhibitor shows the following products and commodity groups:

Trend subjects
Baby food, health food, food for the elderly
Cereals
Coffee, tea
Dairy products (milk, cheese, etc.)
Pasta
Pet food
Powdered soups, pudding powder, other instant products
Spices
Starch, ground cereal products
Sugar

Target and sales markets
Africa
Asia
Brazil
East Africa
Europe
India
Mexico
Middle East
North Africa
Northern Europe
Russia
South Africa
Southern Europe
The Americas
Turkey
USA
West Africa
Western Europe

Mailings
Filling and Packaging technology

Company & products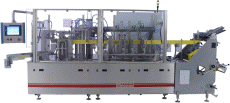 Horizontal Form Fill Seal Machine
This Machine is designed to produce 3 / 4-side sealed sachets, flat or stand-up pouches and delta style pouches with bottom seal, partial shaped pouches.
It has the ability to incorporate a zipper applicator or top/corner spout applicator as well as different dosing systems that enable it to fill all kinds of products such as powders, granules, liquids, pastes, etc.
This model has a wide format range and pouch format size can support from 10gms upto capacity of upto 2 Litre.