<![if !IE]> <![endif]>

REDA S.p.A.
Via Piave 9
36033 ISOLA VICENTINA (VI)
Italy
+39 444599799

+39 444977227

List of Products
This exhibitor shows the following products and commodity groups:

Trend subjects
Alcoholic beverages
Baby food, health food, food for the elderly
Coffee, tea
Dairy products (milk, cheese, etc.)
Fruit juice, fruit drinks
Fruit, vegetables
Non-alcoholic beverages

Target and sales markets
Africa
Asia
Australia
Brazil
Canada
China
Colombia
East Africa
Europe
India
Japan
Mexico
Middle East
New Zealand
North Africa
Northern Europe
Oceania
Others Central America
Others Eastern Europe
Others South America
Russia
South Africa
South East Asia
Southern Europe
The Americas
Turkey
USA
West Africa
Western Europe

Mailings
Process technology

Company & products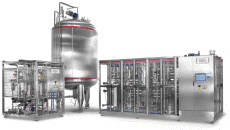 REDA UHT STERIFLEX
REDA UHT STERIFLEX line represents a new tool for the food industry that allows greater operational efficiency and great flexibility for the process of multiple products with a single system.

Initially designed for the process of UHT milk, creams and baby foods, it combines the direct heating with steam injection with the classic indirect heating.

In the first processing phase the product is treated with the traditional indirect heating system.

In a second phase, a special steam injector allows to reach the sterilization temperature very quickly (up to +140°C/150°C) with considerable advantages on the quality of the processed product.
The amount of water equivalent to the steam injected in the heating phase, is removed in a special vacuum chamber at +70°/80°C, where a preconcentration of the product takes place.
The direct steam injection is selectable by the operator and is employed from +125°/130°C (after regeneration and the heating phase with indirect system), so that the direct steam consumption is limited considerably.

Advantages of REDA UHT STERIFLEX:

- No risks of contamination of the product because vacuum chamber is placed before sterilization.

- Milk color and flavour is very similar to a pasteurized milk because pre-heated by means of heat exchangers.

- Strong energy savings (80% vs. 50% of a classic injection system).
- A lower quantity of injected steam avoids thermal stress due to heavy protein precipitation.

- Total break down of Heat-Resistant Sporigens (HRS) guaranteeing products of the highest quality, from color to taste.

- Lactulose, which is normally 400 mg/l in UHT milk produced with total indirect heating, drops to 200/220 mg/l thanks to the steam injection.

- Possibility to operate only with indirect heating to process other products (ex.: drinkable yogurt, smoothies, fruit juices, fruit concentrates or nectars, other soft drinks).