<![if !IE]> <![endif]>

RF Systems Srl
Via Torre 7
36020 SOLAGNA (VI)
Italy
+39 0424 558321

+39 0424 559088

List of Products
This exhibitor shows the following products and commodity groups:

Trend subjects
Baked goods
Cereals
Cocoa
Meat, poultry, fish, sausage
Pet food
Tobacco poducts

Target and sales markets
Australia
Brazil
Canada
China
India
Middle East
New Zealand
Northern Europe
Others Central America
Others South America
Russia
South Africa
South East Asia
Southern Europe
Turkey
USA
Western Europe

Mailings
Process technology

Company & products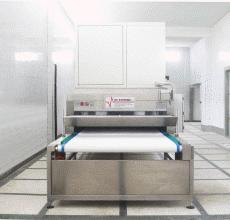 Discover our innovative on-demand defrosting process
RF Systems, the world leading company in radio frequency equipments, invite you to discover our innovative on-demand defrosting RF machine. Thanks to its high productivity, a very low energy consumption, a compact form factor and no risks of bacterial contamination you can defrost up to 1600 kg/h of meat, fish, fruit and vegetable in a few minutes and in a even and uniform way. And thanks to its hygienic design the cleaning process of the system becames an easy and quick operation.