<![if !IE]> <![endif]>

Schrage Rohrkettensystem GmbH Conveying Systems
Im Gewerbepark 26 -30
26446 Friedeburg
Germany
+49 446594690

+49 4465946933

List of Products
This exhibitor shows the following products and commodity groups:

Trend subjects
Alcoholic beverages
Baked goods
Cocoa
Coffee, tea
Convenience products
Frozen foods
Fruit juice, fruit drinks
Fruit, vegetables
Meat, poultry, fish, sausage
Non-alcoholic beverages
Oil, fats, margarine
Organic
Pet food
Potatoes
Powdered soups, pudding powder, other instant products
Spices
Starch, ground cereal products
Sugar
Tobacco poducts

Target and sales markets
Africa
Asia
Australia
Brazil
Canada
China
Colombia
East Africa
Europe
India
Japan
Mexico
Middle East
New Zealand
North Africa
Northern Europe
Oceania
Others Central America
Others Eastern Europe
Others Oceania
Others South America
Russia
South Africa
South East Asia
Southern Europe
The Americas
Turkey
USA
West Africa
Western Europe

Mailings
Conveying, transport and storage facilities, logistics

Company & products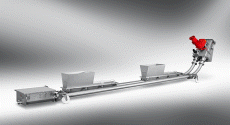 Lebensmittelförderer
Lebensmittelfördertechnik von Schrage:
Hohe Reinheitsanforderungen und der Umgang mit sensiblen Schüttgütern setzen viel Erfahrung in der Nahrungsmittelindustrie voraus. Alle Produkte haben unterschiedliche Charaktereigenschaften und stellen somit sehr unterschiedliche Ansprüche an die Lebensmittelfördertechnik.
Unser Vorteil ist das langjährige Know-How in der Lebensmittelfördertechnik und das individuelle Design unserer Rohrkettenförderer. Nüsse und Mandeln erfordern andere Werkstoffe als Mehl und Milchzucker oder auch Rosinen und Cornflakes.
Grundsätzlich sind aber von feinem Staub, über Granulat und grob körnigen Schüttgütern bis hin zu klebrigen Produkten den Möglichkeiten keine Grenzen gesetzt. Jeder Rohrkettenförderer wird genau an das jeweilige Schüttgut und die hygienischen Anforderungen vor Ort angepasst.
Besonders glatte und leicht zu reinigende Oberflächen aus korrosionsbeständigem Edelstahl, speziell gefertigte Förderketten sowie die Verwendung lebensmittelechter Fette und Öle sind hierbei selbstverständlich.
Eigens für die Nahrungsmittelindustrie entwickelte Transportscheiben vermeiden Verunreinigungen der Lebensmittel durch Materialabrieb. Durch ihre Zusammensetzung sind sie für optische Fremdkörperdetektoren oder auch für Metalldetektoren erkennbar und sorgen, inklusive FDA-Zulassung, für noch mehr Sicherheit in der Lebensmittelproduktion.