<![if !IE]> <![endif]>

STALAM S.p.A.
Via dell'Olmo 7
36055 NOVE (VI)
Italy
List of product entries
This exhibitor shows the following products and commodity groups:

Product emphasis
Process technology

Trend subjects
Baked goods
Cereals
Delicatessen products
Frozen foods
Fruit juice, fruit drinks
Fruit, vegetables
Meat, poultry, fish, sausage
Organic products
Pasta
Ready-meals
Spices
Starch, ground cereal products
Vegan / vegetarian products

Target and sales markets
Australia
Brazil
Canada
Colombia
India
Japan
Mexico
Middle East
New Zealand
Northern Europe
Others Eastern Europe
Others South America
Russia
South Africa
South East Asia
Southern Europe
Turkey
USA
Western Europe

Company & products
Products
COLDWAVE+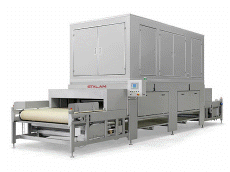 Stalam has developed a rapid in-line defrosting equipment based on the Radio Frequency technology that allows a significant reduction of drip losses and minimises product deterioration due to bacterial growth. This fast, uniform and controlled heating method offers great flexibility in production scheduling and is the ideal solution for many tempering, softening and defrosting processes.

Defrosting in minutes

Defrosting is achieved in minutes rather than hours/days, even for large product blocks and, if necessary, directly inside packaging used for storage or retail distribution (carton boxes, polyethylene liners, etc.).


No drip loss, no product degradation

The process speed and uniformity minimise the risk of product degradation (drip losses, deterioration of sensorial, chemical and physical characteristics, bacteria growth, etc.), thus helping to preserve at its best the product quality.


Higher product yield

Defrosting can be achieved with virtually nil drip loss, that means eliminating completely the weight losses (up to 6-8%) caused by conventional defrosting methods. The improved yield brings immediate economic benefits that allow for an RF equipment pay-back period as short as 6 to 12 months.


Uniform and controlled treatment

The product can be obtained at the correct temperature needed for the next process. Also, weather and external ambient conditions do not affect the treatment, so that it can be controlled accurately and consistently.


Less floor space, reduced process cost

Radio frequency equipment requires much less floor space compared to the traditional, large defrosting rooms or equipment; defrosting costs are also reduced drastically, thanks to the absence of energy losses to the ambient.