<![if !IE]> <![endif]>

Treif Maschinenbau GmbH
Toni-Reifenhäuser-Str. 1
57641 Oberlahr
Germany
+49 2685 9440

+49 2685 1025

List of Products
This exhibitor shows the following products and commodity groups:

Trend subjects
Convenience products
Dairy products (milk, cheese, etc.)
Delicatessen products
Meat, poultry, fish, sausage

Target and sales markets
Africa
Asia
Australia
Brazil
Canada
China
Colombia
Europe
Japan
Mexico
New Zealand
Northern Europe
Oceania
Others Central America
Others Eastern Europe
Others South America
Russia
South Africa
South East Asia
Southern Europe
The Americas
Turkey
USA
Western Europe

Mailings
Process technology

Company & products
Führend in Sachen Lebensmittelschneidetechnik
TREIF seit 70 Jahren erfolgreich – Fast 500 Beschäftigte weltweit
Gespür für Technik mit Sinn für Geschmack – das ist die Leidenschaft, der sich TREIF verschrieben hat. Bei TREIF dreht sich alles um das Schneiden von Lebensmitteln. Das stark wachsende Unternehmen bündelt das größte Spektrum der Lebensmittelschneidtechnik.
Mit fast 500 Beschäftigten weltweit werden innovative Maschinen, Anlagen und Systeme ausschließlich zum Schneiden von Lebensmitteln entwickelt und produziert. Geplant und realisiert werden effiziente, kundenorientierte Lösungen für Handwerk, Supermärkte und Industrie einschließlich automatisierter Linien-Lösungen zum Schneiden verschiedener Produkte wie Fleisch, Wurst, Käse, Brot- und Backwaren. Das Unternehmen unterhält dazu vier Geschäftsbereiche: DICING (Würfelschneiden, z.B. für Wurstsalate und Gulasch), PORTION CUTTING (Portionen bzw. Scheiben schneiden von knochenhaltigen und knochenlosem Fleisch, z.B. Schnitzel und Koteletts, auch nach Gewichtsvorgabe), SLICING (Slicen, d.h. Aufschneiden von Wurst, Schinken, Käse usw. in dünne Scheiben) und BREAD CUTTING (Brot schneiden).
Auf dem Weltmarkt nimmt TREIF eine führende Position in der Lebensmittelschneidtechnik ein. Die Fertigung erfolgt zu 100% in Deutschland. Der Exportanteil liegt bei 70%. Das Unternehmen verfügt über ein internationales Vertriebs- und Service-Netzwerk. Durch Vertriebspartner ist TREIF in über 150 Ländern der Welt vertreten. In China unterhält TREIF ein Repräsentativbüro, in Frankreich, USA, Großbritannien, Italien und Belgien Niederlassungen, die für die Kunden vor Ort verantwortlich sind. Der Name TREIF setzt sich aus den Initialen des Firmengründers Toni Reifenhäuser zusammen. Das Unternehmen wird seit 1989 in der zweiten Generation von Uwe Reifenhäuser geführt. 2016 wurde TREIF aufgenommen in die Liste der "Hidden Champions". Kurz darauf wurde das neue Kundencenter eröffnet.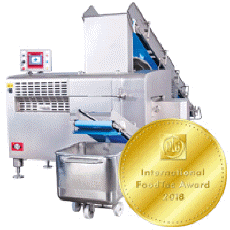 New dimension for cutting frozen products down to -18°C
AVITOS dicer cuts products without pre-cutting
OBERLAHR. The new cutting technology of the AVITOS dicer reveals a completely new dimension of cutting frozen meat products into small end products. The innovative and robust cartridge cutting disc, together with the counter-running 12-blade cutting wheel, opens up possibilities which provide you with a clear competitive advantage. AVITOS confidently cuts frozen meat, such as bacon cubes or strips, at a product temperature of down to -18°C – without any prior cutting. Without this pre-cutting, you are also in the lead in terms of staff safety.
AVITOS also convinces with excellent product separation after cutting. Since the products do not need to be tempered to a higher temperature, you also save money because less energy costs arise. The machine's hourly output ranges up to 2 tonnes (depending on product and application).
Whether manual or automatic loading, whether discharge on belt or redirection to the multiple-head scale using a vacuum – AVITOS offers a wide range of possibilities.
AVITOS also meets the high requirements of the TREIF premium hygiene design. The open design ensures simple and quick cleaning. The tool changing cart is part of the AVITOS standard equipment.
www.treif.de