<![if !IE]> <![endif]>

Weber Maschinenbau GmbH Breidenbach
Günther-Weber-Str. 3
35236 Breidenbach
Germany
+49 6465 9180

+49 6465 9181100

List of Products
This exhibitor shows the following products and commodity groups:

Trend subjects
Dairy products (milk, cheese, etc.)
Halal products
Meat, poultry, fish, sausage
Ready-meals

Target and sales markets
Africa
Asia
Australia
Brazil
Canada
China
Colombia
Europe
India
Japan
Mexico
Middle East
New Zealand
Northern Europe
Oceania
Others Central America
Others Eastern Europe
Others Oceania
Others South America
Russia
South Africa
South East Asia
Southern Europe
The Americas
Turkey
USA
Western Europe

Mailings
Process technology

Company & products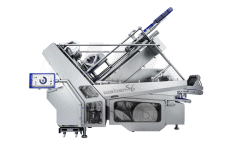 Weber Slicer S6 and Thermoformer VMAX
During the past two years the Weber Slicer S6 has established itself as a high-performance system when it comes to highly effective and portion-accurate slicing of several applications. At the Anuga FoodTec Weber will be presenting an updated version of the S6 success story, which highlights its strengths even stronger.
Its extra wide slicing throat of 520 millimeters enables four-track slicing of products, such as vertical slicing of cheese. So far unique on the market is the quadruple track-independent interleaver, which guides the products completely individually to the cutting edge, so that incomplete portions are completed and transported just as required. Another real highlight are the new, optionally available vacuum grippers. These allow highest product yield, since remaining end pieces are reduced by more than half. Thanks to its open and therefore hygienic design the S6 distinguishes itself as well as through rapid product changes and extremely short reloading times during production. Optimized set-up and cleaning times guarantee high machine availability and thus ensure a more efficient operation. With a total width of only 1,300 millimeters, the high-performance slicer also impresses with its extremely small footprint.
At Anuga FoodTec the S6 will be seen in line with the first Weber packaging machine: the thermoformer VMAX. By integrating packaging machines into the product portfolio, Weber has completed the process chain from slicing to automation to primary packaging. The modular design allows an individual customization for your applications. Particularly in combination with Weber Slicers and automation components, Weber is able to create outstanding line solutions that are perfectly suited to your requirements. The VMAX fits seamlessly in Weber's product portfolio thanks to its high level of performance, hygiene and user-friendliness.