<![if !IE]> <![endif]>
List of product entries
This exhibitor shows the following products and commodity groups:

Product emphasis
Food Safety, Laboratory technology, analytics and biotechnology

Target and sales markets
Australia
Brazil
Canada
China
Colombia
India
Japan
Mexico
Middle East
New Zealand
Northern Europe
Others Central America
Others Eastern Europe
Others South America
Russia
South Africa
South East Asia
Southern Europe
Turkey
USA
Western Europe

Company & products
Products
3M™ Petrifilm™ Plate Reader Advanced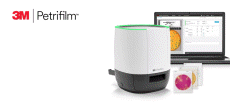 Introducing the new efficiency of food safety. There's no slowing down with automated plate enumeration and advanced reporting capabilities of the 3M™ Petrifilm™ Plate Reader Advanced. It can help you save time, improve productivity and capacity, and maintain accuracy.

Productive
Improve laboratory efficiency and maintain accuracy in a space saving design
Plate Enumeration in 6 seconds or less - up to 900 plates per hour

Proficient
Standardized technology for accuracy and easy to use software
Accurate colony counting

Proactive
Software simplifies results storage and data analytics capabilities
Automated Reports and Data Trending for actionable insights.