<![if !IE]> <![endif]>

Alpma Alpenlandmaschinenbau GmbH
Alpenstr. 39 -43
83543 Rott
Germany
List of product entries
This exhibitor shows the following products and commodity groups:

Product emphasis
Process technology

Company & products
Products
Linienkompetenz durch elektronisches Adlerauge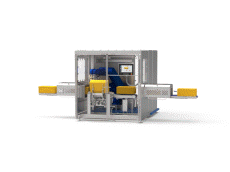 Käse aus dem Karton holen, Folie abziehen, auf die Maschine wuchten. Wer in einer Käserei mit kiloschweren Käseblöcken zu tun hat, leistet Schwerstarbeit in Endlosschleife. Erfreulich ist: Inzwischen gibt es ALPMA-Maschinen, die Käseblöcke vollautomatisch aus Karton und Folie holen.

Doch die fortschreitende Automatisierung bringt auch Risiken mit sich. Aufgrund der immer höheren Leistungen können Schimmel oder kleinste, transparente Folienschnipsel durch das menschliche Auge kaum noch wahrgenommen werden und somit leichter in die Produktion gelangen. ALPMA hat mit dem Eagle Eye eine Technologie entwickelt, die vollständig in den automatisierten Gesamtprozess integriert werden kann.

Das elektronische Adlerauge ist ausgestattet mit moderner Kameratechnik und einem selbst entwickelten Beleuchtungssystem, es inspiziert alle Käseblöcke automatisch und vollflächig und sortiert betroffene Ware direkt aus. Der ausgesonderte Käse gelangt auf diese Weise gar nicht erst in den Handel. Der Einsatz dieser automatisierten und höchst zuverlässigen Sicherheitstechnik hat sich in umfangreichen Praxistests bestens bewährt.

Fehldetektionen? Fehlanzeige.