<![if !IE]> <![endif]>

B- Hygienic BVBA
Maesbossen 3B
9160 Lokeren
Belgium
+32 9 3244008

+32 9 3287001

List of Products
This exhibitor shows the following products and commodity groups:

Trend subjects
Alcoholic beverages
All sectors
Aromas, essences
Baby food, health food, food for the elderly
Baked goods
Cereals
Cocoa
Coffee, tea
Convenience products
Dairy products (milk, cheese, etc.)
Delicatessen products
Frozen foods
Fruit juice, fruit drinks
Fruit, vegetables
Halal products
Ice-cream
Kosher products
Meat, poultry, fish, sausage
Non-alcoholic beverages
Oil, fats, margarine
Organic
Pasta
Pet food
Potatoes
Powdered soups, pudding powder, other instant products
Preserves, pickled products
Ready-meals
Spices
Starch, ground cereal products
Sugar
Tobacco poducts

Target and sales markets
Africa
Asia
Australia
Brazil
Canada
China
Colombia
East Africa
Europe
India
Japan
Mexico
Middle East
New Zealand
North Africa
Northern Europe
Oceania
Others Central America
Others Eastern Europe
Others Oceania
Others South America
Russia
South Africa
South East Asia
Southern Europe
The Americas
Turkey
USA
West Africa
Western Europe

Company & products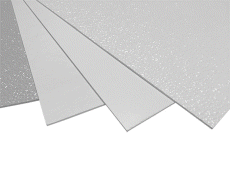 B-Hygienic FRP Polyester sheets
Possible problems with hygienic walls & ceilings.

Hygienic walls & ceilings in a food production facility are challenged every day by heavy wear-and-tear activities, substances and environmental conditions. Mechanical impacts to these surfaces, cleaning products, salt, humidity, blood, acids, starch, and dairy residues are just a few of examples of items that can rapidly deteriorate the condition of hygienic walls & ceilings.

B-Hygienic FRP solutions for hygienic walls & ceilings.

Fibreglass reinforced polyester (FRP) is an ideal solution for hygienic walls & ceilings in a food production facility. FRP sheets and panels are extremely strong, durable, non-corrosive and easy to clean. The FRP surface is either smooth or embossed. The embossed surface adheres very well to walls and ceilings. When cleaning foam is used, the cleaning process has been found to be easy and less cleaning product is used. Moreover, the embossed surface has filth-repellent characteristics and the polymers from which it is constructed create a strong, impact-resistant surface. The smooth surface FRP is a better choice when used in areas that generate a high volume of dust particles, such as milk powder, bakery ingredients and powdered nutrition ingredients, and pharmaceutical production facilities.

For your free hygienic wall and/or ceiling protection concept, e-mail us the specifications of your project.

Discover our range at www.b-hygienic.com for all your construction and renovation projects.