<![if !IE]> <![endif]>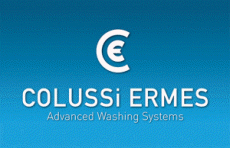 Colussi Ermes SRL
Via Valcunsat 9
33072 CASARSA DELLA DELIZIA (PN)
Italy
List of Products
This exhibitor shows the following products and commodity groups:

Trend subjects
Baked goods
Dairy products (milk, cheese, etc.)
Fruit, vegetables
Meat, poultry, fish, sausage

Target and sales markets
Africa
Asia
Australia
Brazil
Canada
Colombia
East Africa
Europe
India
Mexico
Middle East
New Zealand
North Africa
Northern Europe
Oceania
Others Central America
Others Eastern Europe
Others South America
Russia
South Africa
South East Asia
Southern Europe
The Americas
Turkey
USA
West Africa
Western Europe

Mailings
Process technology

Company & products
COLUSSI ERMES is a worldwide leader in the design and manufacture of custom made washing systems in various food sectors, such as the dairy, meat, bakery, confectionery and chocolate, and also in logistics, pharmaceutical, hospital and automotive Industry, with the production of over 4000 plants. In production since the early '70s, Colussi Ermes has an outstanding reputation and over 40 years of field experience, research, and know-how, which enables it to penetrate different markets. The company's quality-oriented philosophy, and production flexibility, have enabled it produce safe and reliable solutions in line with their customers' needs.
The Colussi Ermes washing machines are fully automatic and suitable for high output applications and capable of washing thoroughly any type of products and utilities, by means of particular systems and pressure water. All models are built of stainless steel and of food safe material, applying up-to-date technology and complying with the most recent rules for hygiene and safety.
Analytical and monitoring tools and a highly skilled and trained team carry out the production process.
MISSION
The main goal of the company is that of fully meeting our customers' expectations, committed to understanding their requirements, combining that commitment with a journey whose final destination is that of having created a fully "customized" system.
SERVICE
Choosing a Colussi Ermes industrial washing machine means benefitting from the best and fastest service all over the world.
Our efficient, customer-oriented service department and multi-skilled technicians organize and provide immediate professional on-site support as well as online assistance at any time.
RECONDITIONING SERVICES
COLUSSI ERMES also offers a partial or total reconditioning of obsolete machines. We perform all the necessary repairs, replacements and renovations to optimize the machine's functionalities and restore its original performance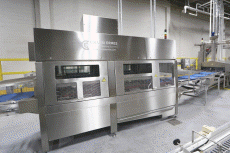 Centrifugal Drying System

Thanks to continuous evolution over the last decade, Colussi Ermes has become the absolute leader in drying systems, above all with the development of crate centrifugal dryers.

Large capacities of up to 7,500 crates/hour, speed and perfect drying, these are just some of the features which, together with the possibility of treating crates of different types, set the new generation Colussi Ermes centrifugal dryers apart from the rest.

Continuous innovation over the years has led not only to the creation of ever more powerful centrifugal dryers with increased performance levels, but also to the birth of the "super-compact" centrifugal dryer for crates; a machine able to combine large drying capacity with a minimum footprint.

The Colussi Ermes crate centrifugal dryers can be included in existing systems as well as new installations; a design which has been designed in terms of the footprint and the parts, allowing it to be adapted to extremely limited areas.

It is available in the Single or Twin-lane version, and within just a few seconds, the Colussi Ermes crate centrifugal dryer is able to ensure perfect drying with limited energy consumption. The high performance levels combined with high energy efficiency levels make it an effective and economical solution.

MAIN TECHNICAL FEATURES:

Possibility of drying crates of different dimensions, both rigid and collapsible in just two seconds.
Capacity of up to 2,400 crates/hour in the single version.
Capacity of up to 4,200 crates/hour in the Twin-lane version.
Up to 7,500 crates/hour in the non-compact versions.
Maximum drying: 2-4 gr of water residue.
Flexibility: suitable for all types of rigid and collapsible crates.
Minimum footprint: EU from 3,800 to 4,200 mm; America from 4,200 to 5,400 mm.
Energy savings of between 80% and 90%.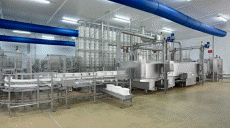 Block-Mould Washers
Special systems for washing cheese Block Moulds. They are automatic and tailor-made on the basis of the technical-production requirements of the dairy. They are equipped with customized washing programs based on the level of Block Mould residue to be treated. They are set apart from others on the market thanks to their sophisticated technology and the ability to preserve the integrity of the moulds after frequent treatments.
The cheese block mould washing systems are also fully automatic in the loading and unloading stages and are constructed according to high quality materials and processes. They ensure impeccable washing and drying results, thanks to the particular monitoring protocols connected to HACCP systems (Hazard Analysis and Critical Control Points).
Highlights:
- Washing capacity up to 1400 pieces/hour.
- Possibility of washing different block mould shapes and types, of different heights and dimensions.
- Maximum hygiene and impeccable microbiological results, ensured by perfect washing and drying cycles which are extremely delicate and ensure the product is always in perfect condition.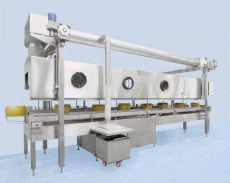 Cheese washers
Automatic and highly versatile cheese washing systems, designed and constructed ad hoc for the dairy industry and ideal for treating cheeses such as grana and gorgonzola. These systems ensure effective washing and sanitizing of the cheeses and the equipment, optimising production processes in full compliance with the most stringent hygiene standards.

- Removal of residue waste from any cracks on the product without altering the surface or the trademark of the consortium.
- Extremely limited amount of product is removed, approx. 80-150 grams/cheese.
- Possibility of washing different types of cheese (grana padano, parmiggiano reggiano, gorgonzola, provolone, etc.).
- CIP (Clean In Place) self-washing program which preserves and purifies the production lines of organic and inorganic contaminants.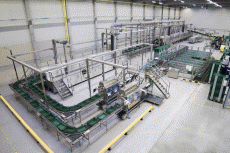 AUTOMATIC CRATE-TRAY WASHING SYSTEMS
Automatic and highly versatile systems for washing and sanitizing crates and baskets, suitable for all sectors of production and ensuring impeccable washing for any type of crate.

The production range includes cabin or tunnel systems for washing crates, with the possibility of selecting various options: one , two or three tracks, horizontal or vertical.

Highlights:

- Possibility of washing crates of different shapes and type, including: collapsible, rigid and stackable crates and baskets.
- Possibility of flexible hourly washing, from just a few pieces up to 10,000 crates/hour.
- Possibility of simultaneously washing crates of different shapes.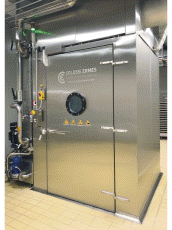 RACK WASHER DRYER WITH CENTRIFUGAL SYSTEM
- Automatic machines to wash sanitize and upon request dry racks, pans and equipment placed on racks. Automatic versions with manual or automatic doors, drying phase, underground or above ground tank.

- Its unique and innovative centrifugal system allows a significant reduction of energy consumption and space while guaranteeing the maximum efficiency. Thanks to a slow rotation of the loading platform, the wash solution reaches the whole surface of the rack and components.

- Our special machines are designed to fit all the requirements and capacities of our hygiene-sensitive customers.