<![if !IE]> <![endif]>

Daxner GmbH
Vogelweiderstr. 41
4600 Wels
Austria
List of product entries
This exhibitor shows the following products and commodity groups:

Product emphasis
Process technology

Trend subjects
Aromas, essences
Baby food, health food, food for the elderly
Baked goods
Cereals
Cocoa
Coffee, tea
Convenience products
Dairy products (milk, cheese, etc.)
Frozen foods
Fruit juice, fruit drinks
Fruit, vegetables
Ice-cream
Kosher products
Meat, poultry, fish, sausage
Pasta
Pet food
Powdered soups, pudding powder, other instant products
Ready-meals
Spices
Starch, ground cereal products
Sugar

Target and sales markets
Australia
Canada
Mexico
Middle East
Northern Europe
Others Central America
Others Eastern Europe
Others South America
Russia
South East Asia
Southern Europe
Turkey
USA
Western Europe

Company & products
Products
Daxner Container Systems DCS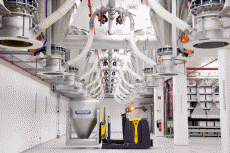 Daxner Container Systems DCS für die Herstellung von Mischungen aus Pulvern und Granulaten erfüllen höchste Anforderungen hinsichtlich:

· Kontaminationsfreiheit
· Hygiene
· Energieeffizienz
· Flexibilität (hohe Rezeptur-/Chargenzahlen)

Die Komponenten einer Charge werden in einem Container gesammelt und mittels Transportsystem – fahrerlosen Transportsystemen (FTS) oder mechanischen Transportsystemen wie Kettenförderern, Rollenbahnen etc. – zu den einzelnen Befüllstationen gefahren bzw. gefördert. Die Zahl der im DCS eingebundenen Container richtet sich nach den jeweiligen Anforderungen des Kunden und der Produktspezifikation.

Im Absammelsystem werden die Einzelkomponenten über Container-Andocksysteme in den Container gefüllt. Die Dosierung und Verwiegung der Komponenten erfolgt direkt in den Container (Großkomponenten). Für die Erreichung hoher Wiegegenauigkeiten werden Mittel- und Kleinkomponenten in hochauflösenden Behälterwaagen vorverwogen.
Sind alle Komponenten einer Charge in den Container gesammelt, erfolgt der Mischprozess. Dieser findet in speziell dafür konzipierten Containermischern statt. Alternativ dazu kann die Charge auch aus dem Container in einen Chargenmischer entleert werden, der hohe Mischanforderungen inkl. Zugabe von Flüssigkomponenten, Aromastoffen etc. erfüllen kann.
Die fertige Mischung wird über den zugeordneten Container (alternativ Big-Bags) den weiteren Verarbeitungsschritten zugeführt (Abpackanlagen).

DCS Daxner Container Systems beinhalten:

· Edelstahlcontainer der Baureihe DCHD Hygienic Design

· Container-Befüllsysteme

· Container-Entleersysteme

· Container Transportsysteme (FTS / Mechanische Transportsysteme)

Daxner ist der komplette Systemanbieter für Engineering – Lieferung – Montage – Inbetriebnahme inkl. Prozessleitsystem.