<![if !IE]> <![endif]>

Dedert International A/S
Borupvang 3
2750 Ballerup
Denmark
List of product entries
This exhibitor shows the following products and commodity groups:

Product emphasis
Process technology

Trend subjects
Aromas, essences
Pet food
Powdered soups, pudding powder, other instant products
Starch, ground cereal products
Sugar

Target and sales markets
Canada
China
Japan
Northern Europe
Others Eastern Europe
Russia
South East Asia
Southern Europe
Turkey
USA
Western Europe

Company & products
Products
Innovation By Design: How Dedert Corp.'s Pilot Plant Drives Innovation of New Products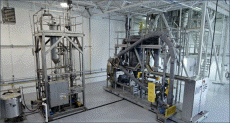 As new food ingredients are developed to meet evolving consumer demands, process technology innovations based on R&D initiatives are critical to ensure that product integrity is maintained throughout scale-up and commercialization efforts. From specialty starch and sweeteners to alternative proteins and plant-based ingredients, Dedert Corporation provides the technical expertise in drying and evaporation to equally support new start-up companies and established market leaders with their product development, process innovation, and full-size commercial goals.

Our Pilot Plant facility in Chicago provides customers with consultative engineering, R&D testing, process validation, and complete system design. Dedert's fully-equipped 10,000ft2 research center allows pilot-scale testing to establish the correct parameters and material characteristics needed for optimal design, and to produce market research samples. More importantly than the equipment and technology, the Pilot Plant consolidates the engineering, ingenuity, and innovative resources to develop the required process solutions. Clients are encouraged to participate in-person to provide dynamic and collaborative feedback.

Whether in our Pilot Plant or with our laboratory partners in Europe, Dedert customizes process solutions to meet target product specifications and functionality. As the ideal supplier to seamlessly integrate evaporation and drying solutions into optimized processes, Dedert's holistic approach to Spray Drying, Ring Drying, Flash Drying, and Evaporation opportunities can lower the cost of operations and therefore provide easier access-to-market for new product innovations. Together with strategic partnerships, the integrated solutions meet changing customer expectations and sustainability values in growing industries. From initial evaluations to the launch of process demonstration and commercial plants, Dedert is ready to partner with innovators focused on evolving specialty food ingredients!
Veranstaltungen
Events
Date
Speaker

Dedert International A/S

Digital Product Stage


26.04.2022 | 11:00 a.m.-11:10 a.m.

more

Ms. J. Burgess