<![if !IE]> <![endif]>
List of product entries
This exhibitor shows the following products and commodity groups:

Product emphasis
Process technology

Trend subjects
Dairy products (milk, cheese, etc.)
Frozen foods
Fruit, vegetables
Meat, poultry, fish, sausage
Pet food
Ready-meals
Vegan / vegetarian products / alternative proteins

Target and sales markets
Canada
China
India
Japan
Middle East
North Africa
Northern Europe
Others Central America
Others Eastern Europe
Others South America
Russia
South Africa
South East Asia
Southern Europe
Turkey
USA
Western Europe

Company & products
Company & products
Company & products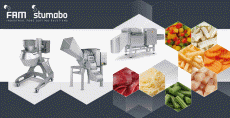 Unternehmensportrait
FAM Stumabo: your partner for cutting vegetables, fruit, potatoes, chips, (analog) cheese, meat, poultry, fish and alternative proteins
FAM Stumabo focusses on the development of industrial cutting machines for the food industry. We provide customers with the solutions they need for cutting, slicing, dicing, strip-cutting, shredding or grating a wide range of products to different sizes.
Over the past 60 years, we established a long-lasting close cooperation with highly reliable influential companies, customers and partners in the industrial food processing market. We are present in all continents, with test centers, stocks and service.
FAM Stumabo's industrial food cutting solutions are designed to meet the needs of any modern food processor. Food safety, cut quality, cut consistency, user friendliness, operator safety and total cost of ownership are key elements that are deeply embedded into our machine architecture.
A big contributing factor to our quality is that all our blades are manufactured in-house. Our expertise helps to select the right blade for every application. Using the right blade thickness, cutting edge grind, edge profile and strength is critical for the best cutting process with minimum waste.
Whether you are a small, medium or high volume food processor, at FAM Stumabo you find a solution tailored to your specific needs. Our cutting equipment assures high-quality products with the highest level of efficiency.
Together we cut your product to perfection!