<![if !IE]> <![endif]>

Fromfroid SA
Route de Quehen
62360 ISQUES
France
List of Products
This exhibitor shows the following products and commodity groups:

Mailings
Refrigeration and air-conditioning technology

Company & products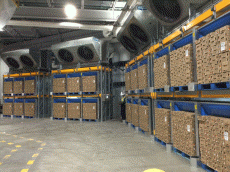 High Efficiency Cooling cells and Tunnels
In the manufacturing process of yogurts and fresh dairy products, fast cooling after palletization is a critical point which has
a big effect on several parameters such as homogeneity, quality, texture, acidity and shelf life.

FROMFROID has developed 2 innovating solutions currently used by most majors in the dairy market.

Our patented tunnels and cells permit the cooling of your products very quickly while reducing your energy consumptions
by up to 50%.

Those cells and tunnels are adapted for every kind of pallets even if they do not have the same size.

In order to optimize your current tunnel, we can modify it by adapting our innovative system.