<![if !IE]> <![endif]>
List of Products
This exhibitor shows the following products and commodity groups:

Trend subjects
Alcoholic beverages
Baby food, health food, food for the elderly
Dairy products (milk, cheese, etc.)
Delicatessen products
Frozen foods
Fruit juice, fruit drinks
Fruit, vegetables
Ice-cream
Meat, poultry, fish, sausage
Oil, fats, margarine
Organic
Pasta
Ready-meals

Target and sales markets
Africa
Asia
Australia
Brazil
Canada
China
Colombia
Europe
India
Japan
Mexico
Middle East
New Zealand
North Africa
Northern Europe
Oceania
Others Central America
Others Eastern Europe
Others South America
South Africa
South East Asia
Southern Europe
The Americas
Turkey
USA
Western Europe

Mailings
Food safety, quality management

Company & products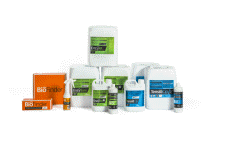 BIOFILM REMOVE: Innovative solutions for the detection and removal of biofilms.
ITRAM HIGIENE focuses its activity on the hygiene of food manufacturing and processing industries.

ITRAM HIGIENE's products distinguish themselves from the traditional solutions used in the food industry, because we offer a range of enzyme based products which are the most effective solution for the removal of biofilms.

Our products:

BioFinder & BioFinder Mini: biofilm detection on open surfaces with a simple visual inspection. Rapid procedure; after 30 seconds. It does not stain. No residues. Easy rinsing. Easy to use.

ENZY JET; ENZY JET PLUS; BIOJET; ENZYBASIC: Foaming enzymatic detergents for food hygiene and for biofilm prevention and elimination on OPEN SURFACES.

ENZY CIP; TENSIO CIP; BIO CIP: Non-foaming enzymatic detergents for food hygiene and biofilm prevention and elimination in CIP systems.

ENZYBAC: Our newest innovation. Cleaning and disinfection in one product. In only one step.

BIOFILMS... DETECTED IN SECONDS, ELIMINATED IN MINUTES.

Visit us!