<![if !IE]> <![endif]>

Premier Tech Systems and Automation B.V.
Meerheide 40
5521 DZ EERSEL
Netherlands
+31 611098876

+31 497 514953

List of product entries
This exhibitor shows the following products and commodity groups:

Product emphasis
Filling and Packaging technology

Trend subjects
Baby food, health food, food for the elderly
Cereals
Dairy products (milk, cheese, etc.)
Organic products
Pet food
Powdered soups, pudding powder, other instant products
Spices
Starch, ground cereal products
Sugar

Target and sales markets
Australia
Brazil
Canada
China
Colombia
East Africa
India
Japan
Mexico
Middle East
New Zealand
North Africa
Northern Europe
Others Central America
Others Eastern Europe
Others Oceania
Others South America
Russia
South Africa
South East Asia
Southern Europe
Turkey
USA
West Africa
Western Europe

Company & products
Products
Open-mouth bagger with bottom-up filler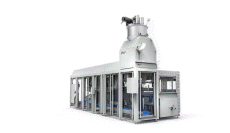 The OML BF SERIES open-mouth bagging systems are specifically designed for the food, chemical and pharmaceutical industries to bag powdery materials, for example milk, whey or lactose powders. The OML BF bagging system features our patented dust reduced, bottom-up filling technology, which ensures high accuracies during the filling process. After bag placement the filling spout moves down the bag during the filling cycle. A minimum distance between the filling point of the vertical filling screw and the product in the bag is kept to significantly minimise the dust emission and reduce the product aeration. The vertical screw is frequency control driven, allowing all powdery products to be filled hygienically, accurately and quickly. These bagging systems feature a cost-effective designs including bag transport with open-bag-top transport or bag transport with closed bag-top.

The innovative bottom-up bagging system combined with our modular approach provides you with the opportunity to create a bagging system for your current and future needs. The OML BF SERIES is available in different bagging speed capacities ranging from 250 up to 900 bags per hour. The cost-effective modular design offers the capability of 1, 2 or 3 fill heads per line. Also single spout version is offered with post dosing for higher accuracy and speed. These bagging machines are equipped with gross weighing systems for precise filling results.