<![if !IE]> <![endif]>

ProMinent GmbH
Im Schuhmachergewann 5 - 11
69123 Heidelberg
Germany
+49 6221 8420

+49 6221 842432

List of Products
This exhibitor shows the following products and commodity groups:

Trend subjects
Aromas, essences
Baked goods
Dairy products (milk, cheese, etc.)
Delicatessen products
Fruit juice, fruit drinks
Fruit, vegetables
Meat, poultry, fish, sausage
Non-alcoholic beverages
Ready-meals

Target and sales markets
Brazil
Canada
Europe
Northern Europe
Others Eastern Europe
Others South America
Russia
Southern Europe
The Americas
Turkey
USA
Western Europe

Mailings
Process technology

Company & products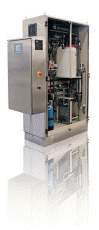 Elektrolyseanlage DULCO®Lyse
Effiziente Erzeugung von DULCO®Lyt 400 (ECA-Wasser) mit einem außerordentlich niedrigen Chlorid- und Chloratgehalt.

Das einzigartige Membran-Elektrolyse-Verfahren garantiert durch Verwendung seines Desinfektionsmittels DULCO®Lyt 400 einen Chloratgehalt, der deutlich unter den geforderten Grenzwerten liegt. DULCO®Lyse wird bereits mehrfach bei großen Unternehmen der Softdrink-Industrie, in Molkereien sowie bei Produzenten von Babynahrung eingesetzt und überzeugt durch seine beeindruckende Leistungsfähigkeit.

Minimale Chloridkonzentrationen bieten maximalen Schutz vor Korrosion und höchste Wirtschaftlichkeit.

Elektrolyseanlagen des Typs DULCO®Lyse erzeugen hochreine hypochlorige Säure im Vakuumverfahren. Dazu wird in einem im Lieferumfang enthaltenen Salzlösebehälter eine gesättigte Kochsalzlösung hergestellt, die in einer Membranzelle elektrolysiert wird. Dabei entsteht im Kathodenraum chloridfreie Natronlauge und Wasserstoff und im durch die Membran abgetrennten Anodenraum hochreines Aktiv-Chlor und abgemagerte Restsole.

Ihre Vorteile:

· Extrem niedriger Chlorid- und Chloratgehalt für höchsten Schutz und Korrosionsfreiheit der Anlagentechnik

· Umweltschonende, hochwirksame Desinfektion

· Verlängerung der Abfüllzeiten bei Füllerbedüsung

· Geringer Wasserverbrauch durch kürzere Spülzeiten bei CIP

· Nachhaltige Keimfreiheit, ohne Transport, Lagerung und Handhabung hoch konzentrierter Chemikalien

Mit unserer DULCO®Lyse - Technologie können Sie beim Abfüllen von mikrobiologisch sensiblen Getränken – weitgehend auf teure Konservierungsstoffe verzichten.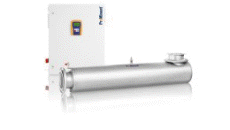 UV-Anlage Dulcodes LP zertifiziert
Die einzigartigen UV-Anlagen Dulcodes LP stehen für die zukunftsweisende Wasseraufbereitung – effizient und chemiefrei.

In der Dulcodes LP werden unsere patentierten Vario-Flux Hochleistungsstrahler mit dynamischer Strahlerheizung eingesetzt. Dank der einzigartigen Kombination aus elektronischer Vorschalttechnologie und den Vario-Flux-Strahlern lassen sich diese über einen weiten Leistungsbereich von bis zu 50 % der elektrischen Nennleistung schnell und präzise dimmen. Das gewährleistet jederzeit die automatische Anpassung an wechselnde Durchflüsse und Wassertemperaturen. Die Effizienz steigert sich sogar im gedimmten Modus, was sich besonders positiv auswirkt, wenn der tatsächliche Durchfluss unter dem maximal möglichen der Anlage liegt. Basierend auf intensiver Computersimulation wurde bei der Dulcodes LP die Strömungsführung im Reaktor optimiert. Gleichzeitig wird der Druckverlust minimal gehalten. Die daraus resultierende gleichmäßige Bestrahlungsdosis ohne Überoder Unterdosierung eines Teilvolumenstromes führt zu geringem Energieeinsatz, minimaler Strahleranzahl und deutlich reduzierten Lebenszykluskosten.

Ihre Vorteile

- UV-Anlage Dulcodes LP für breiten Anwendungsbereich zur effizienten, sicheren und chemiefreien Wasserdesinfektion

- Einzigartige dynamische Strahlerheizung passt Strahlerleistung sekundenschnell an und sorgt für optimale Desinfektion auch bei wechselnden Durchflüssen und Wassertemperaturen

- Homogene UV-Dosis dank optimierter Strömungsdynamik im Reaktor garantiert maximale Durchflussleistung bei minimaler Strahleranzahl und minimalem Druckverlust

- Reduzierung der Lebenszykluskosten durch langlebige Vario-Flux-Hochleistungsstrahler mit geringem Energieverbrauch und hoher UV-Ausbeute

- Hohe Flexibilität durch stehende oder liegende Einbauweise und freie Wahl der Flanschposition

- Bedienerfreundliche und intuitive Steuerung zur Anzeige von Betriebszuständen und Einstellung von Betriebsparametern