<![if !IE]> <![endif]>

Friedrich Sailer GmbH
Memminger Str. 55
89231 Neu-Ulm
Germany
+49 731985900

+49 7319859020

List of product entries
This exhibitor shows the following products and commodity groups:

Product emphasis
Conveying, transport and storage facilities, logistics, intra logistics
Operating materials, environmental technology, biotechnology

Trend subjects
All sectors
Aromas, essences
Baby food, health food, food for the elderly
Baked goods
Cereals
Convenience products
Dairy products (milk, cheese, etc.)
Delicatessen products
Frozen foods
Fruit juice, fruit drinks
Fruit, vegetables
Ice-cream
Meat, poultry, fish, sausage
Organic products
Pasta
Preserves, pickled products
Ready-meals
Vegan / vegetarian products

Target and sales markets
Western Europe

Company & products
Products
Changing room facilities / lockers made of stainless steel, steel and HPL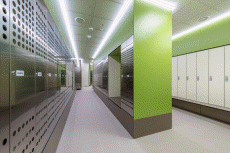 Friedrich Sailer GmbH is your experienced and professional partner for designing and setting up personnel access to the production area, including the appropriate hygiene sluices.

We plan your social and changing rooms and hygiene access for you. We construct, produce and assemble cupboards, lockers, social room facilities made of steel, stainless steel and HPL for you based on your individual hygiene requirements, design wishes and spatial conditions.

With our support, optimize your personnel routes in accordance with current requirements and guidelines, design optimal routing and thus improve processes and increase the level of hygiene. In the area of ??lockers and personal compartments, among other things, innovative chip-controlled online locks with combined time recording can be used, which enables maximum utilization of the available capacity through automatic, non-personal assignment of lockers and snack compartments.

Appropriate hygiene sluices are designed according to the operational requirements and spatial conditions.

Thanks to 2D planning and 3D construction as well as our own production in Neu-Ulm, we are able to adapt the facility to the spatial conditions and thus optimize the room layout.