<![if !IE]> <![endif]>
List of Products
This exhibitor shows the following products and commodity groups:

Trend subjects
Baby food, health food, food for the elderly
Coffee, tea
Dairy products (milk, cheese, etc.)
Powdered soups, pudding powder, other instant products
Starch, ground cereal products

Target and sales markets
Asia
Australia
Europe
India
Middle East
New Zealand
Northern Europe
Oceania
Russia
South East Asia
Southern Europe
Western Europe

Mailings
Process technology

Company & products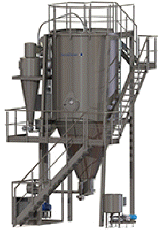 SD2500 Multi Stage Configuration
The Small Scale Spray Dryer, type SD2500 multi stage, has been designed for drying of liquid products into powders. In multi stage configuration the air is introduced in the top of the drying chamber where the feed is atomized into droplets. An Integrated Fluid Bed (IFB) with a separate air supply system is installed below the drying chamber. The powder is discharged from the IFB whereas the fines are conveyed to the cyclone together with the drying air. Below the cyclone a Fines Return system blows back the fines to the wet atomization zone in the top of the drying chamber. Multi stage configuration enables production of dust-free agglomerated particles.
The spray drying process is scalable and the SiccaDania Small Scale Spray Dryers are available in many flexible configurations enabling process simulations of larger industrial size spray dryers.
SD2500 is targeted for small scale production as well as R&D work and used by companies worldwide. It is available in a standard version and also features a range of optional items and modules, thus enabling customisation to match individual requirements. The SD2500 is produced in sanitary design following GMP guidelines and includes state-of-the-art solutions regarding safety, easy cleaning and a sophisticated PLC based control system. All parts in contact with product are made in stainless steel and all elastomers are food grade approved. All plants are skid-mounted, FAT-tested and pre-wired which minimize installation time and costs.
APPLICATIONS
The SD2500 is widely used for dairy, food, chemical and pharmaceutical applications.