<![if !IE]> <![endif]>

SiccaDania A/S
Pilehoj 18
3460 Birkerod
Denmark
List of product entries
This exhibitor shows the following products and commodity groups:

Product emphasis
Process technology

Trend subjects
Aromas, essences
Baby food, health food, food for the elderly
Coffee, tea
Dairy products (milk, cheese, etc.)
Fruit, vegetables
Potatoes
Starch, ground cereal products

Company & products
Products
LeanFlux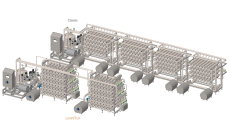 LeanFlux® by SiccaDania Filtration LeanFlux® (patent pending) is a special system design for Crossflow Membrane Filtration using segmented modules. The innovation around segmented modules is as simple as it is effective. LeanFlux® uniquely utilises proven technology using known flow principles around the modules and membranes. LeanFlux with segmented modules and sectional design are highly flexible in designs.

The unique LeanFlux® design allows customers to get true benefits from accurately controlling and regulating TMP (Trans-Membrane Pressure), crossflow, CIP flows and Fluxes.
THE BENEFITS OF LEANFLUX® LeanFlux® membrane filtration plants will significantly reduce energy, water and utility consumptions and thereby contribute to direct OPEX savings compared to classical process designs. Additional OPEX savings are driven by improved yield, more uniform products, improved active membrane performance, reduced CIP requirements and reduced physical footprint to mention a few.

The above benefits and significant reduction in CO2 footprint not only supports the green profile of the Dairy and Food Industry but, equally important, also the industries' bottom line.

LeanFlux® is easily designed for existing applications into present facilities or greenfield projects. For completely new applications, LeanFlux® pilot plants are available to develop optimal design and performance.
SUSTAINABLE SOLUTION FOR THE FUTURE The LeanFlux® process with independent regulation of TMP & crossflow will extend the known processing boundaries using polymeric crossflow membrane filtration. LeanFlux® will allow new processing possibilities and drive novel business cases around protein harvesting, fractionation and concentration.

In "mature" markets the harvesting of i.e dairy proteins will see a significant potential when optimising existing processes. There is undoubtedly also a significant potential within the processing of green protein, fish/marine proteins and animal/meat protein.
Veranstaltungen
Events
Date
Speaker

SiccaDania A/S

Speakers Corner, Passage 4/5


28.04.2022 | 1:00 p.m.-1:30 p.m.



Mr. Dr. K. Markedal