<![if !IE]> <![endif]>

SMI S.P.A
Via Carlo Ceresa 10
24015 SAN GIOVANNI BIANCO (BG)
Italy
+39 034540111

+39 034540209

List of product entries
This exhibitor shows the following products and commodity groups:

Product emphasis
Filling and Packaging technology

Trend subjects
Alcoholic beverages
Baby food, health food, food for the elderly
Dairy products (milk, cheese, etc.)
Non-alcoholic beverages
Oil, fats, margarine
Pet food
Preserves, pickled products

Company & products
Products
SMI solutions for packaging in tray + film and palletizing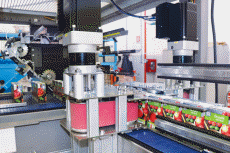 At Anuga Food Tec 2022 SMI is showcasing its latest solutions for the secondary and tertiary packaging for food products: ASW packer and APS 615 palletizer.
The ASW ERGON, making packs in film only and in tray + film with an output up to 80 packs/minute, is characterized by innovative features in terms of modular assembly, advanced ergonomics, ease of use and cutting-edge automation. This range can process many kinds of containers, with different sizes, without having to have additional belt equipment, with faster and easier format changeover. The cardboard magazine is designed according to the most recent developments in ergonomics, which guarantee fast, safe, running and maintenance operations; the film cutting unit is driven by a brushless motor with direct-drive transmission, that improves the precision of the cutting phase and simplifies the maintenance operations. ASW range also allows manufacturers to produce sustainably, as it can process 100% recyclable film.

The APS 615 is an ultra-compact palletizer, suitable for low speed production plants, that stands out for easy installation, management and maintenance. It is a pick & place system: the electric panel represents a distinct module that is not unwired during transport and that therefore can be installed immediately at the customer's plant, with considerable simplification in the machine installation. The TCO (Total Cost of Ownership) is optimized thanks to low operating and maintenance costs.
Furthermore, this range represents an eco-friendly solution, as it is equipped with ICOS motors with built-in servo-driver, which ensures greater energy efficiency.

Choosing these solutions means opting for an innovative and efficient packaging process: manufacturers will be able to streamline production operations, ensure that products reach the consumers' tables under perfect condition and quickly adapt to the new requirements of a constantly changing market.