<![if !IE]> <![endif]>

Vibrofloors Company s.r.o.
Bratislavska 1529/21
102 00 Praha 2
Czech Republic
+420 222367782

+420 222367 799

List of product entries
This exhibitor shows the following products and commodity groups:

Product emphasis
Food Safety, Laboratory technology, analytics and biotechnology

Trend subjects
Alcoholic beverages
All sectors
Aromas, essences
Baby food, health food, food for the elderly
Baked goods
Cereals
Cocoa
Coffee, tea
Convenience products
Dairy products (milk, cheese, etc.)
Delicatessen products
Frozen foods
Fruit juice, fruit drinks
Fruit, vegetables
Halal products
Ice-cream
Kosher products
Meat, poultry, fish, sausage
Non-alcoholic beverages
Oil, fats, margarine
Organic products
Pasta
Pet food
Potatoes
Powdered soups, pudding powder, other instant products
Preserves, pickled products
Ready-meals
Spices
Starch, ground cereal products
Sugar
Tobacco poducts
Vegan / vegetarian products / alternative proteins

Target and sales markets
Australia
Brazil
Canada
China
Colombia
East Africa
India
Japan
Mexico
Middle East
New Zealand
North Africa
Northern Europe
Others Central America
Others Eastern Europe
Others Oceania
Others South America
Russia
South Africa
South East Asia
Southern Europe
Turkey
USA
West Africa
Western Europe

Company & products
Products
Flooring systems for food processing industry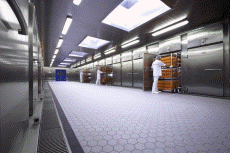 We the Vibrofloors Worldgroup Company are thinking globally but acting locally, providing chemical and acid resistant ceramic flooring systems, suitable for the heavy duty traffic environments, made especially for food processing industry, everything from beverages, brewery, dairy, meat processing and bakery just to mention few. Our turn-key services enable our global or local clients to have variety of systems with single source responsibility.

These flooring systems are frequently subjected to acids, chemicals, ly's in various concentrations and temperatures, not to mention traffic, such as pallet trolleys, forklifts where high point and dynamic loading stresses are present. Another important factor of these flooring systems is the stainless steel drainage system, the floor is only as good as the used drainage system, which is mostly made from AISI 304/316 type materials.

That's why it is important to work together with one partner on everything from DESIGN, DRAINAGE, IMPLEMENTATION of the flooring and MAINTENANCE, who has track record and global experience in these fields.

We of Vibrofloors World Group are proud to have this required Experience, Know how, experienced staff and reference projects to meet all your needs. This can be discussed in extensive presentation or inspection of your facility to provide you with the Right solution.