<![if !IE]> <![endif]>

Vibrofloors Polska sp. z o.o.
Nuszkiewicza 12E/74
31-423 Krakow
Poland
+48 1241 01470

+48 2141 01472

List of Products
This exhibitor shows the following products and commodity groups:

Trend subjects
Alcoholic beverages
Baby food, health food, food for the elderly
Dairy products (milk, cheese, etc.)
Fruit juice, fruit drinks
Meat, poultry, fish, sausage

Target and sales markets
Africa
Asia
Australia
Brazil
Canada
China
Colombia
East Africa
Europe
India
Japan
Mexico
Middle East
New Zealand
North Africa
Northern Europe
Oceania
Others Central America
Others Eastern Europe
Others Oceania
Others South America
Russia
South Africa
South East Asia
Southern Europe
The Americas
Turkey
USA
West Africa
Western Europe

Mailings
Process technology

Company & products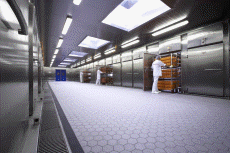 Industrial flooring system for food processing industry
Clean, hygienic and long term! These are the most important requirements for floors in the food industry. Vibrofloors ceramic floors must be chemical and acid resistant as well as hard wearing. To guarantee longevity they have to withstand heavy point loading, high volume of vehicular traffic (forklifts, pallet trolleys) or heavy machines and production facilities. Only the highest density materials used by Vibrofloors ensure that the floor absorbs no liquids. In the food processing industry are floors subjected to thermal exposure, continuous exposure, corrosive chemicals in various concentrations like Caustic Soda, Natrium Chloride, Nitric Acid as well as oils, fats etc. Vibrofloors World Group with its VIBROCHEM® system and VIBRATION METHOD improve technical quality of materials. We are delighted to hear that our floors are resistant to all of these!

Vibrofloors helps to meet the highest HACCP and EC standards!