<![if !IE]> <![endif]>
Weber Ultrasonics
Im Hinteracker 7
76307 Karlsbad
Germany
+49 724892070

+49 7248920711

List of Products
This exhibitor shows the following products and commodity groups:

Trend subjects
Baked goods

Mailings
Process technology

Company & products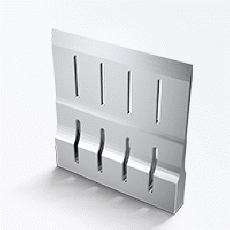 Ultraschall-Schneidsonotroden: Langlebig, wartungsarm & flexibel
Schneidsysteme von Weber Ultrasonics werden speziell an die Eigenschaften und Konsistenz des Schnittguts, beispielsweise Käse, Wurst oder Teigwaren, angepasst. Selbst warme, frische, klebrige oder tiefgefrorene Lebensmittel lassen sich mit Ultraschallschwingungen mühelos schneiden, schlitzen oder zerkleinern. Ihr großer Vorteil: Ein Anhaften der Lebensmittel an der Klinge kann durch den Einsatz von Ultraschall fast vollständig vermieden werden, die Schnittkanten bleiben daher besonders sauber.
Die Lambda-Schneidsonotroden mit reduziertem Knotenpunkt ermöglichen das Schneiden von hohen Produkten. Sämtliche Food-Sonotroden sind konform mit der EG-Verordnung EG1935/2004.

Im Vergleich zu rein mechanischen Klingen bleiben Schneidsonotroden länger scharf und beanspruchen einen wesentlich geringeren Wartungsaufwand. Im Zusammenspiel mit unseren flexiblen Flanschkonvertern rüsten Sie Schneidstraßen problemlos und schnell um. So bleibt Ihre Produktion mit Weber Ultrasonics immer in Bewegung.