<![if !IE]> <![endif]>

WINOPAL Forschungsbedarf GmbH
Bahnhofstr. 42
31008 Elze
Germany
List of product entries
This exhibitor shows the following products and commodity groups:

Product emphasis
Food Safety, Laboratory technology, analytics and biotechnology

Trend subjects
Alcoholic beverages
Aromas, essences
Baby food, health food, food for the elderly
Baked goods
Cereals
Cocoa
Coffee, tea
Convenience products
Dairy products (milk, cheese, etc.)
Delicatessen products
Frozen foods
Fruit juice, fruit drinks
Fruit, vegetables
Halal products
Ice-cream
Kosher products
Meat, poultry, fish, sausage
Non-alcoholic beverages
Oil, fats, margarine
Organic products
Pasta
Pet food
Potatoes
Powdered soups, pudding powder, other instant products
Preserves, pickled products
Ready-meals
Spices
Starch, ground cereal products
Sugar
Tobacco poducts
Vegan / vegetarian products

Target and sales markets
Western Europe

Company & products
Products
Instrumental Texture Analysis and Material Testing in the Food Industry.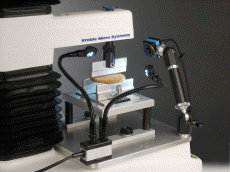 The Texture Analyser is an analytical instrument for testing consistency, strength, hardness and virtually any other texture property of food, packaging and products of all kinds. Thanks to over 300 different tools and test fixtures, the instrument can be precisely adapted to the samples in just a few steps - instead of having to prepare the sample through complicated processing - and is just as well suited to standard DIN tests as it is to
exploratory investigations.

Due to the high precision and versatility of this material testing machine, it is particularly suitable for research and development as it is to quality control. Once the ideal condition of a product has been defined by a sensor panel, for example, all subsequent measurements can be compared with it down to the smallest detail. This relieves the burden on staff during inspections and differences between batches can be recognised quickly; or the influences of changed recipes or new ingredients can be analysed and the texture of a vegan substitute product can be compared with that of the model: Crispy, tender, firm, airy, creamy, crunchy, juicy - all this can be measured.

The latest models offer additional functions, especially in connectivity. Via a connected touchscreen interface or the browser-based control app, the device can be used practically anywhere. The measurement data can be read out directly, stored for further processing and transferred to any workstation.

Different versions of the Texture Analyser are available for different requirements: forces of up to 7.5 kN can be recorded at up to 2,000 measuring points per second and with a resolution of 0.01 N and 0.0005 mm. Accessories such as thermometers, temperature chambers, camera systems or programmable traversing tables make the Texture Analyser
one of the most flexible and efficient analysis devices for the food industry.