<![if !IE]> <![endif]>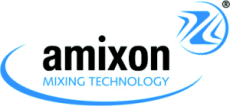 Amixon GmbH
Halberstädter Str. 55
33106 Paderborn
Germany
+49 52516888880

+49 5251688888999

List of product entries
This exhibitor shows the following products and commodity groups:

Product emphasis
Process technology

Trend subjects
Aromas, essences
Baby food, health food, food for the elderly
Baked goods
Cereals
Cocoa
Coffee, tea
Convenience products
Dairy products (milk, cheese, etc.)
Delicatessen products
Frozen foods
Fruit, vegetables
Halal products
Ice-cream
Kosher products
Meat, poultry, fish, sausage
Organic products
Pasta
Pet food
Potatoes
Powdered soups, pudding powder, other instant products
Ready-meals
Spices
Starch, ground cereal products
Sugar
Tobacco poducts
Vegan / vegetarian products / alternative proteins

Target and sales markets
Australia
Brazil
Canada
China
Colombia
East Africa
India
Japan
Mexico
Middle East
New Zealand
North Africa
Northern Europe
Others Central America
Others Eastern Europe
Others Oceania
Others South America
Russia
South Africa
South East Asia
Southern Europe
Turkey
USA
West Africa
Western Europe

Company & products
Products
amixon® powder mixers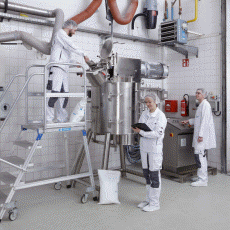 amixon® batch mixers achieve technically ideal mixing qualities that can't be further improved.

Ideal mixing qualities and excellent particle protection are guaranteed in the amixon® twin-shaft mixer. It creates a three-dimensional product flow which guarantees optimum mixing quality and gentle particle handling. The mixing container consists of two cylinders that merge into each other. In their centre there are two helical mixing tools rotating in the same direction. A fifth of the entire mixing material is redistributed with one revolution of the mixing tools. The gentle upward transport of the mixture takes place by means of the helical blade mixing tools, while the downward flow takes place naturally due to the effect of gravity. One and the same mixer can homogenize extremely gently, but also deagglomerate intensively. The degree of discharge is up to 99.99%. Also available as one shaft mixer type VM.

Great discharge ability

A distinctive property of the amixon® vertical mixers is their very high degree of residue emptying. In amixon® conical mixers AM and KoneSlid®, the bulk materials are discharged completely in the case of free-flowing materials - without segregation with the mixing tool rotating slowly. The major success factors are ideal mixing qualities with different filling levels from 5 – 100%, particularly high degrees of residue emptying up to 99.99% and exemplary inspection possibilities with the help of CleverCut® inspection doors.

amixon® mixers conform to the specifications of the EHEDG and the FDA and thus meet the highest requirements for the hygienic preparation of dietary foodstuffs, baby food and pharmaceuticals. Moreover, they meet all requirements contained in the GMP standard.

Schedule a test trial with your original products in one of our worldwide test centers!

All amixon® mixers are exclusively manufactured in our factory in Paderborn, Germany!