<![if !IE]> <![endif]>

Inficon GmbH
Bonner Str. 498
50968 Köln
Germany
List of product entries
This exhibitor shows the following products and commodity groups:

Product emphasis
Food Safety, Laboratory technology, analytics and biotechnology

Trend subjects
All sectors
Baby food, health food, food for the elderly
Baked goods
Cereals
Cocoa
Coffee, tea
Convenience products
Dairy products (milk, cheese, etc.)
Delicatessen products
Halal products
Kosher products
Meat, poultry, fish, sausage
Organic products
Pasta
Pet food
Powdered soups, pudding powder, other instant products
Preserves, pickled products
Ready-meals
Spices
Tobacco poducts
Vegan / vegetarian products / alternative proteins

Target and sales markets
Australia
Brazil
Canada
China
Colombia
India
Japan
Mexico
Middle East
New Zealand
North Africa
Northern Europe
Others Central America
Others Eastern Europe
Others Oceania
Others South America
Russia
South Africa
South East Asia
Southern Europe
Turkey
USA
Western Europe

Company & products
Products
Contura S-series - Reliable leak testing of packaging without test gas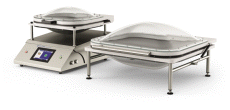 Innovative solutions for non-destructive leak testing

The Contura S400/S600 leak detectors from INFICON use the pressure rise method in a flexible test chamber to reliably and non-destructively detect both extremely small leaks and gross leaks, therefore ensuring consistently high quality of food packaging.

During evacuation of the test chamber, the two highly flexible membranes adjust to fit the contour of the test specimen without damaging it. If there is a leak, gas flows out of the packaging into the evacuated test chamber. This causes a measurable pressure rise in the vacuum of the chamber. The system can therefore detect leaks of less than 10 µm just as reliably as gross leaks – and it does so in a matter of seconds.

This fast and precise pressure rise method, which can be integrated into the production process, allows the shelf life of foodstuffs to be extended, giving our customers a competitive advantage and allowing longer transport times.