<![if !IE]> <![endif]>

MULTIPOND Wägetechnik GmbH
Traunreuter Str. 2 - 4
84478 Waldkraiburg
Germany
List of product entries
This exhibitor shows the following products and commodity groups:

Product emphasis
Filling and Packaging technology

Trend subjects
Baked goods
Cereals
Coffee, tea
Convenience products
Delicatessen products
Frozen foods
Fruit, vegetables
Meat, poultry, fish, sausage
Pasta
Pet food
Ready-meals
Spices
Tobacco poducts

Target and sales markets
Australia
Brazil
Canada
Colombia
Mexico
New Zealand
Northern Europe
Others Central America
Others Eastern Europe
Others Oceania
Others South America
Russia
Southern Europe
Turkey
USA
Western Europe

Company & products
Products
High-precision weighing technology for the cannbis industry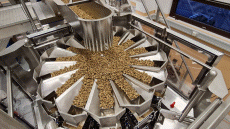 MULTIPOND has developed weighing and filling units for the rapidly developing cannabis
products market that meet both legal requirements and industry expectations.
The high-precision weigher from MULTIPOND combines unparalleled accuracy at
maximum performance with features that have proven their worth in practice -
robustness, availability and process reliability.

THE BENEFITS TO YOU AT A GLANCE:
- Automated processes for weighing, filling and packaging
- Maximum accuracy for minimum giveaway
- High Return on Investment (ROI) - short amortization times
- Reduced process costs - maximum efficiency
- Shorter cleaning times thanks to Hygienic Design
- Maximum process reliability

MULTIPOND offers a tamper-proof system with the fully automated feeding, weighing and filling unit. The focus is on product-protection, minimum give-away and easy operation. The integrated pre- and post-weighing device continually checks the measured weight. Incorrect weighings are automatically removed from the process. Process parameters are displayed and visualized on a central monitor. Here too, one of our core competencies - the weighing of product mixtures - offers the potential to place large cannabis flowers in the packaging first and then fill it out with smaller flowers.
The entire line is calibratable for the CBD/THC industry (MID-compliant) and considers the applicable GMP guidelines. "Good Manufacturing Practice" means first and foremost guaranteeing the quality and safety of products by focusing on hygiene, documentation and controls.
A format change or an intermediate clean are also possible with little effort.
The high-precision multihead weigher is capable of weighing flowers, mints, and also jellies and infused products.