<![if !IE]> <![endif]>
KHS GmbH
Juchostr. 20
44143 Dortmund
Germany
+49 231 5690

+49 231 5691541

List of Products
This exhibitor shows the following products and commodity groups:

Trend subjects
Alcoholic beverages
Baby food, health food, food for the elderly
Dairy products (milk, cheese, etc.)
Delicatessen products
Frozen foods
Fruit juice, fruit drinks
Non-alcoholic beverages
Oil, fats, margarine
Organic
Preserves, pickled products
Ready-meals

Target and sales markets
Africa
Asia
Australia
Brazil
Canada
China
Colombia
East Africa
Europe
India
Japan
Mexico
Middle East
New Zealand
North Africa
Northern Europe
Oceania
Others Central America
Others Eastern Europe
Others Oceania
Others South America
Russia
South Africa
South East Asia
Southern Europe
The Americas
Turkey
USA
West Africa
Western Europe

Mailings
Filling and Packaging technology

Company & products
KHS GmbH is a global company with a history going back over 140 years. Driven by the vision of being the first to build filling systems for what was then the new 'invention' of bottled beer, KHS is now one of the leading manufacturers of innovative filling and packaging systems serving many different customers in the beverage, food, and non - food industries worldwide. The company is a wholly owned subsidiary of Salzgitter Klöckner - Werke GmbH, which is part of the Salzgitter Group. Core expertise lies in the development and production of both single machines and entire lines. Thanks to considerable experience gleaned from decades of expertise in the design of lines and machines, KHS GmbH can offer its customers valuable skills and proficiency. Especially for the dairy markets customers can find all they need with regard to reliable aseptic PET filling systems for optimum product safety and particularly sustainable packaging. KHS aseptic and ESL filling lines can handle a large variety of neck and container sizes. This helps our customers to satisfy a whole range of consumer requirements at the grocery store, providing the precise packaging sizes required. This principle leads not only to significant material savings regarding the chosen bottle sizes/volumes; it also helps to avoid food waste. In this regard, one of the top advantages within the wide portfolio of services is the Bottles & Shapes program. This is a future-oriented consultancy service for the individual design and production of PET bottles, helping you to make the best of your PET bottles.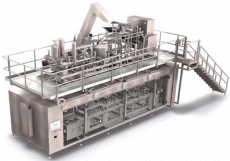 KHS Innosept Asbofill ESL
Optimum aseptic filler for maximum hygienic safety when bottling sensitive products