<![if !IE]> <![endif]>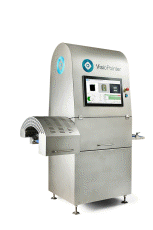 VisioPointer® reliably and efficiently automates inspection processes in food packaging lines by using leading vision technology and multiple inspectin types.

Its intuitive interface and intelligent data usage allow operators to ensure product quality, reduce waste and downtime and optimize production performance.

As a plug and play vision system, VisioPointer® makes thorough, efficient quality control achievable for food manufacturers with easy implementation, operation and maintenance.

Ideal for inspection of e.g. thermoformed packaging, sealed trays, skin and vacuum pack and sealed plastic cups with inspections of seal, punching, label, printed markings and barcode.

The system also provides real-time data and elaborated production statistics to faciliate optimization and faciliates an efficient production with a smooth connection to MES and ERP systems.

13A Lind Hansens Vej
5000 Odense C
Denmark