<![if !IE]> <![endif]>

Hastamat Verpackungstechnik GmbH & Co. KG
Naunheimer Str. 57
35633 Lahnau
Germany
+49 644160090

+49 6441 6009111

List of product entries
This exhibitor shows the following products and commodity groups:

Product emphasis
Filling and Packaging technology

Trend subjects
All sectors
Baby food, health food, food for the elderly
Baked goods
Cereals
Cocoa
Coffee, tea
Convenience products
Frozen foods
Fruit, vegetables
Meat, poultry, fish, sausage
Pet food
Ready-meals
Spices
Starch, ground cereal products
Sugar
Tobacco poducts

Target and sales markets
Australia
Brazil
Canada
China
Colombia
East Africa
India
Japan
Mexico
Middle East
New Zealand
North Africa
Northern Europe
Others Central America
Others Eastern Europe
Others Oceania
Others South America
Russia
South Africa
South East Asia
Southern Europe
Turkey
USA
West Africa
Western Europe

Company & products
Products
Vertical bagger RM-270 in Hygienic Design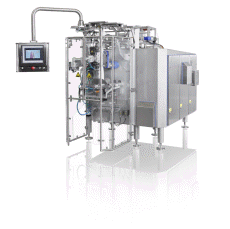 With the innovative RM series in Hygienic Design, Hastamat offers the continuous vertical form, fill and seal machine for fresh or frozen foods. These machines' low installation height guarantees maximum product protection even at high
speeds. All drive elements are clearly separated from the product side. Thanks to the outstanding accessibility for maintenance and cleaning, the RM series offers special convenience. These stainless steel machines are also optionally equipped with special applications for liquid dosing or special protective gassing. With these packaging machines, we can address all format ranges and bag types with high performance and we allow the use of a wide variety of packaging
materials.
Multihead weigher in combination with product transfer system